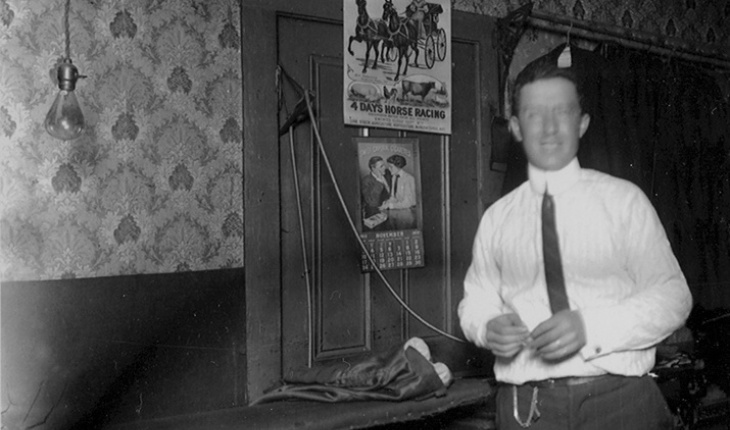 Catastrophic Narratives

Lance Blomgren
If I told you that what you are about to read is not a story, but only appears to be a story, and if you then continued and read through the artifact that only appears to be a story, but in fact is not, and you understood it as a story, then in your mind it would be lodged as a story and nothing you or I could say to the contrary would change that. Once it is a story it remains one or fades. It could be a series of lies or mistakes, but nevertheless it is a story or it doesn't exist. —Fred Douglas
One
Recently I was able to rewatch Léonard Forest's film In Search of Innocence (1964), the National Film Board documentary on the Vancouver art scene. I last saw it about twelve years ago. In the film there is a scene of Fred Douglas reading his poetry, and minutes later, arguing with artist Roy Kiyooka about the nature of creative improvisation, mainly as it pertains to painting. The film is more associative than linear, more about capturing the pensive cultural mood of the period than recording the various personalities for posterity. There are sustained shots of the ocean—tugboats, dockworkers, and seagulls—mist rising from the mountains, and rain-soaked streets, overlain periodically with Forest's meditations on this specific time and place. "You learn to live with mountains," he says. "It's the end of the line but the beginning of something."
Kiyooka is baffled by Douglas' claim that speed and spontaneity are an essential component of artistic practice, when, as he reminds the viewer, Douglas would take months to create one of his "spontaneous points." Douglas, however, plays out the disagreement with the claim that Kiyooka, by his definition, is simply limiting the notion of improvisation by framing it within a set notion of time. The pace of the work, he suggests, dictates its content; an improvisational nature of production can take place day-to-day, day-by-day, and can accumulate into something that, while not standing for anything and is "not a symbol," is however significant. The accidents, missteps, and inspired moments that characterize the spontaneous gesture become an archive of the seam between conscious and non-conscious thought that as the film narrates, is a record of "a way of being in the world."
In relation to Douglas's sprawling body of work and his artistic practice itself, his offhanded, somewhat slippery comments on this idea of improvisation do not seem surprising. When Douglas died on February 14, 2005, his gestures of "prolonged spontaneity" had spawned dozens of large-scale multidisciplinary projects—executed through photography, painting, drawing, illustration, design, sculpture, performance, book works, writing—that reveal an uneasy truce between the nature of improvisational methods and the afterthought, the "what do these objects mean?" Although Douglas would move conceptually away from the romanticized notion of improvisation expounded by In Search of Innocence, which in the years before Vancouver conceptualism found inspiration in the discourse of spontaneity that emerged from abstract expressionism, bebop and free jazz, and the beat movement, to a more philosophically based interrogation of the very possibility of the spontaneous act itself, the diversity of his creative output remained marked by a basic trust in the instinctual and unconsciousness. Many of his projects, including his photographs of the mundane, his mobile installation The Van (1983), a vehicle decked out for the Arcadian journey; his mid-1990s 11-Inch Paintings and Fictional Cars; and Redeemed Plates (1995), all emerge out of a long-term consideration of the artifacts of improvisational play, out of "arrays or lists ...a condition of compilations." Douglas writes: "I add one thing to the other until a kind of catastrophe occurs. This catastrophe is the picture or the story."1
More surprising, however, is to see Douglas reading his poetry. Throughout In Search of Innocence Douglas's reading is presented both on camera and as a voiceover accompaniment to Forest's damp West Coast imagery. Douglas reads with pleasure, relishing the collision between sound, linguistic high-jinks, and imagery: "What is happening on this dark green chesterfield or, you know, bed is that we are on it doing like intangible verbs to each other's curves." These scenes are a startling reminder that Douglas's practice, which arose from a predilection for processes of accumulation and collage, not knowing, and afterthought, included language and writing as central media from early in his career.
Please Note
💩 This is an excerpt of a 3,124 word text. You can purchase the piece for $2 CDN. A link to the full article will be emailed within 1 hour of your payment. Subscribers receive full access to all content—just click the key icon to the right to log in.
Full Text$2.00
About the Author
Lance Blomgren is the author of Practice (1995), Walkups (2000) and most recently Corner Pieces (2004), a collection of urban fi ctions and text-based art projects. He has exhibited work in Montreal, Vancouver, Banff, Berlin, Chicago and New Mexico. He is currently the Co-Director of the Helen Pitt Gallery, Vancouver.
You Might Also Enjoy