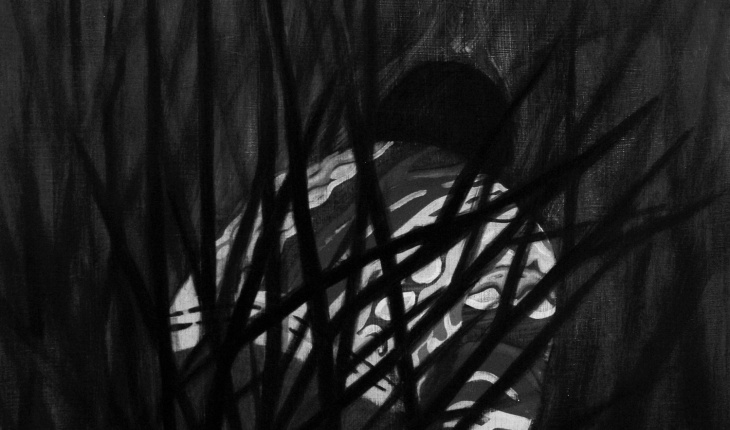 Hold this Thread While I Walk Away

Tyler Russell
On July 4th I attended the opening of Steve Hubert's The So Patternistic exhibition at CSA, a Vancouver gallery run above a used bookstore. It was the first near-complete showing of the artist's sweater series, a quasi-narrative landscape art project that begins with a particular sweater, the patterns of which become an arbitrary thread tying together a microcosmology of narrative elements. These include painted, sculpted, photographed, and performed representations of: a group of people around a campfire, a sweatered god in the mountain shining light through a stencilled spray paint mist of darkness, a deflated geodesic dome, firemen and a burning bush, a sweatered figure hiding in the brush, a photo of the sweater-donned artist diving headfirst into a pool, and so on.
Once, looking at parts of this sweater series during a casual visit to Hubert's studio, the juxtaposition of the painting with the campfire scene and odd objects resting on strangely shaped platforms reminded me of an artist talk I attended in Seoul in October 2007 by Mai-Thu Perret who spoke of her Crystal Frontier (1999) series. It struck me as interesting how on two sides of the rich, post-hippie world, artists who came of age at roughly the same time as the Cold War came to an end (Perret was born in 1976, Hubert in 1975) were creating narrative cosmologies as a way to investigate the various possibilities and problems of an age that had apparently lost its faith in stories. Unlike Hubert's series, Perret's work depends less on her own personal identity as a source. Instead, she takes a more academic approach, employing canonical references (for example to the Russian avant-garde) to question approaches to utopia. Hubert takes a different tack.
Staring hard at his bio-cultural roots, like an incursion into a contested landscape, Hubert creates a discourse that challenges us to consider the cultural scripts of settler-colonizers' relationships to the landscapes they inhabit. While the work itself does engage in trendy references to the art canon (such as the object entitled FUI or Failed-Utopian-Ideals, a deflated, poorly constructed geodesic dome), he employs them primarily as self-reflective jokes—mini critiques of the still-distant art world's interest in in-field historical references. Moreover, in the very selection of this particular sweater's pattern as his cosmology's constant, he flashes a playfully critical wink toward the recent neo-neo-geo trend that some of his friends are caught up in.
With this attitude of friendly, oft-absurdist reaction to the forces of modernization and conformity—an attitude that has been consistent since I first caught sight of Hubert in secondary school—he uses rhythmic progression to construct a narrative context with arbitrary foundations, ambiguous and playful interconnections amongst the elements, and no clear climax or resolution in sight. Kind of like Haruki Murakami, he calls attention to narrative conventions by veering away from the familiar plot formula of conflict, struggle, and resolution. The only constants he offers by contrast are the fragmentary patterns of a sweater and a mountainous, forested environment.
Please Note
😩 This is an excerpt of a 1,452 word text. You can purchase the piece for $2 CDN. A link to the full article will be emailed within 1 hour of your payment. Subscribers receive full access to all content—just click the key icon to the right to log in.
Full Text$2.00
About the Author
Based in Japan and Korea from 2000 to 2007, Tyler Russell served as a project coordinator for the 2004 Busan Biennale Contemporary Art Exhibition and Yokohama 2005: International Triennale of Contemporary Art; and as assistant curator of Platform Seoul 2007: Tomorrow. Since 2006, he has co-authored Navin Party along with artist Navin Rawanchaikul. This globetrotting narrative project serves as a critique of the contemporary use of art as a tool for the formation and projection of national identities. Tyler is the founding director of the soon to open Café for Contemporary Art, North Vancouver.
You Might Also Enjoy