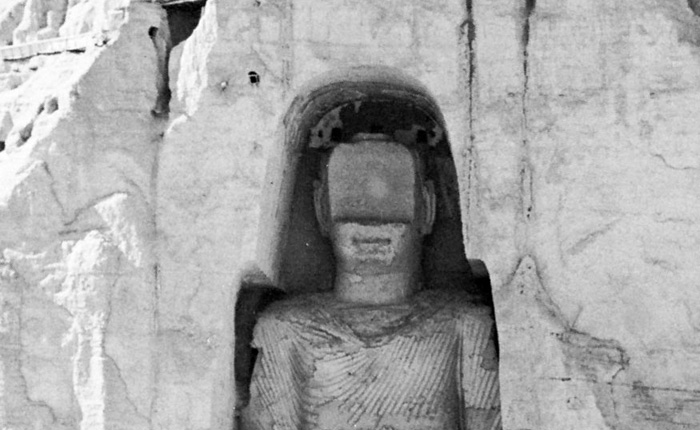 Producing Images in Times of War

Haema Sivanesan
What do we know of war?
I recall a telephone conversation with Khadim Ali in May 2008. Ali was frantically preparing for his first visit to Canada to continue working with Jayce Salloum towards the installation of the heart that has no love/pain/generosity is not a heart at the Alternator Gallery in Kelowna, British Columbia (2008). In the midst of having videotapes translated and subtitled, undertaking the frustrating task of applying for a Canadian visa, and preparing for the installation of a major new collaborative work, Ali was forced to surrender his laptop containing documentation of all his artwork at an armed checkpoint in his home city of Quetta, Pakistan.

Quetta, the capital city of Baluchistan, which borders the province of Kandahar in Afghanistan, had been in a state of heightened insurgency for several months. Bomb blasts and rocket attacks were a daily occurrence, along with murders, kidnappings, and disappearances. Ali was anxious to get to the bazaar to buy war rugs1 for the installation. I was anxious for Ali who, as a minority Hazara, was a likely target for armed insurgents or the Taliban. I recall cautioning him to be careful—it was not worth risking his life for an art installation. But Ali firmly set aside my concerns, reminding me that he had grown up in Quetta. He had always lived with these dangers. One had to get on with one's life. 

For those who have never lived through war, the concept of it derives primarily from media constructions: from photographs reproduced in newspapers, or television images also circulating freely online. Susan Sontag argues that such images of war do not exist beyond the realm of spectacle; they represent conflicts that take place elsewhere, and they have impact primarily for their shock value. The problem with such images, she argues, lies in their inability to prompt sustained inquiry or adequate reflection upon the contexts of war, its politics, and its effects. Sontag writes: public attention is steered by the attentions of the media—which means, most decisively, images. When there are photographs, a war becomes "real." Thus, the protest against the Vietnam War was mobilized by images. The feeling that something had to be done about the war in Bosnia was built from the attentions of journalists—"the CNN effect," it was sometimes called—which brought images of Sarajevo under siege into hundreds of millions of living rooms night after night for more that three years. These examples illustrate the determining influence of photographs in shaping what catastrophes and crises we pay attention to, what we care about, and ultimately, what evaluations are attached to these conflicts...in a world saturated, no, hypersaturated with images, those that should matter have a diminishing effect: we become callous. In the end, such images just make us a little less able to feel, to have our conscience pricked.2

For most of us, our knowledge of war is contingent on its representation in the media. However, media representations generate complex effects, and, as Sontag argues, images of war do not inevitably invoke compassion, empathy, or concern among viewers. For instance, reportage of an event can stir up political action, but it can also stun, and, by extension, generate a sense of impotence, defensiveness, or hostility. What response the media generates is in part a measure of a larger social and political engagement. But Sontag's point is that as consumers of images, we are not adequately critical of how such images are produced, for what purpose, and to what end. A photograph can neither represent the complexity of the situation of war nor effectively communicate the complexity or extent of its horrors. Accordingly, Sontag reminds us that the photojournalistic image is not neutral, its function being determined by the commercial and editorial interests of newspapers. 

Bamiyan: An alternative perspective 
on the war in Afghanistan
If we understand the war in Afghanistan primarily through media interests and rhetoric, then Salloum and Ali's collaborative project is an attempt to go beyond this discussion of war—to go beyond the hype and sensationalism characteristic of mainstream representations and discussions, and to bring complexity to our understanding of, and engagement with, the region. To realize this project, Salloum and Ali travelled together to Kabul and then overland into the Bamiyan Valley of Central Afghanistan to examine the situation of the Hazara people, a persecuted Shia Muslim minority. The Hazaras believe themselves to be descendants of the sculptors and labourers who produced the colossal images of the Buddha, which since about the fifth century CE had been a defining feature of the Bamiyan Valley's arid landscape. In March 2001, however, six months prior to Al Qaeda's attack on the World Trade Center and the Pentagon, the Taliban destroyed the ancient and monumental figures of the Buddha. As the material in the heart that has no love suggests, the Hazara people perceived the destruction of the Bamiyan Buddhas as an act of terror and humiliation, sealing the Taliban's capture of the Bamiyan Valley.3 The destruction was also a gesture of provocation and defiance aimed at the international community.4 

the heart that has no love is a collaborative installation that appears as a spatialized scrapbook that develops a sense of journey or itinerary, and produces an impressionistic account of the landscape of Afghanistan beyond the front line of war. The project takes its title from a Sufi song sung by Hazara girls at a school assembly in Kabul. One of the videotapes depicts a scene of these girls at a morning assembly in the school courtyard under a brilliant blue sky—an image of future promise. The installation consists of photographs of various sizes arranged in conceptual clusters and displayed alongside miniature paintings that contribute a narrative and allegorical thread. Also included are ambient and documentary videotapes and various collected ephemera, including objects, notes, children's drawings, documents, and maps that comprise the evidence of a journey. Arranged in thematic constellations, the clusters of photographs play with scale and composition, often developing patterns of repetition and reiteration, producing a mode of visual analysis. 

The photographs and videotapes that comprise the heart that has no love focus on the everyday realities and quotidian details of ordinary people who have lived through decades of conflict. They are intimate in their keen observation of detail: of looming snow-capped mountains viewed through dusty windows, of picturesque landscapes littered with disused tanks and war artillery alongside moments of enduring life—a pigeon sheltering in the alcove of a restaurant, a budding dandelion in a bed of hail, a shocking pink tarpaulin stretched out as an awning. These images of the landscape convey an eerie stillness and desolation evocative of a mood in Afghanistan. Salloum depicts the scarcity of things and the frugality of living, recorded as a photographic catalogue of piles—of sticks, rocks, scraps, shrapnel, junk, disused parts, ruins. Every object is worthless yet precious, giving the viewer an insight into the conditions of poverty in Afghanistan. The photographs and interview tapes included in the heart that has no love reveal the concern of the Hazara people for having access to the basic privileges of modernity—for essential civic amenities such as sanitation, running water, and roads; for education, opportunities for women, dignified work, hope. 

Please Note
😩 This is an excerpt of a 4,795 word text. You can purchase the piece for $2 CDN. A link to the full article will be emailed within 1 hour of your payment. Subscribers receive full access to all content—just click the key icon to the right to log in.
Full Text$2.00
About the Author
Haema Sivanesan is a curator with an interest in the 
historical and contemporary art of South and Southeast Asia. She is currently the Executive Director of SAVAC (South Asian Visual Arts Centre), a Toronto-based artist-
run centre dedicated to the presentation of contemporary art by South Asian artists.

You Might Also Enjoy