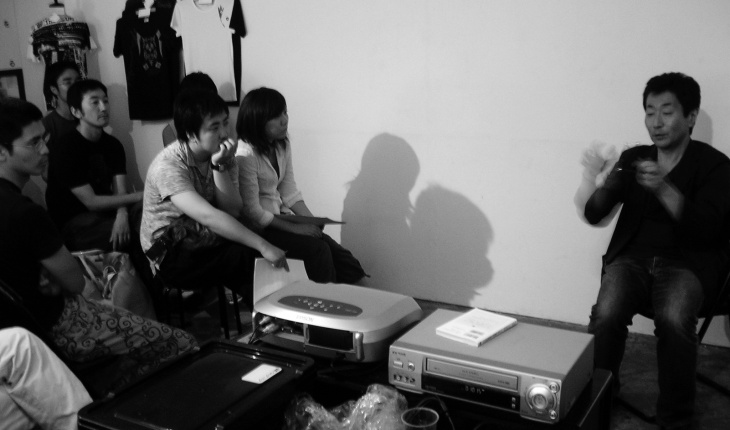 Rethinking a History of Tokyo Art Speak

Makiko Hara
The following text is based on a talk by Makiko Hara given during the Fillip guest talk series on 26 April 2007 at the Emily Carr Institute in Vancouver, British Columbia, as part of our Artists and Institutions series. The talk was produced in cooperation with ArcPost, a project of the Pacific Association of Artist Run Centres.
Episode of a Telephone Conversation
I recently called the artist On Kawara at his home in New York to discuss the inclusion of his work I am Still Alive —an early telegram series that the artist produced in the 1970s—in an exhibition I am planning. In a positive sense, our conversation confused me, making me think about art and its paradoxical relationship to language. He pointed out that our thoughts and consciousness are constructed by language, but that we have to be aware of the limits of language. He told me that throughout Japan's history, "essentially 'art' has not existed." Everything could be categorized as either decoration or design, meaning that "art" has always had some purpose or practical function. He thus argued that within this context, there is nothing that can be defined purely as "art." To this I asked, "What is art?" He replied that this question is important, but that the word "art" itself essentially contains this question. That is to say, if something is automatically or conventionally defined as "art" without struggling, he would refuse to call that thing "art." It was like a Zen question and answer. Put more logically, On Kawara seems to define "art" not as a representation of a statement or idea, but as the idea or thought that communicates directly without language.
Within a Japanese context, the word "art" is an imported concept, introduced in the early nineteenth century. The translation of "art" in Japanese is bijyutu: bi meaning beauty and jyutsu meaning technique. From On Kawara's perspective, "art" thus seems mistranslated, representing beauty and technique, but never linguistically capturing this aspect of concept. This notion of art as a form of beauty and technique is still in the subconscious of some segments of the Japanese art world. Although formally there is often little difference between contemporary Japanese and contemporary Western art, the fundamental concept behind the art is often different—a difference perhaps rooted in the linguistic origins of "Japanese art."
What is Tokyo Art Speak?
Tokyo Art Speak was an autonomous movement formed by a group of people in Tokyo between 1993 and 1997 and then again between 2004 and 2006. Its mandate was to change the present situation of art and its institutions through critical thinking and by questioning authority. I co-founded the group along with my partner, art critic Masashi Ogura. We started the project with some friends who shared a similar concern over the lack of critical discourse in the Japanese art scene at the time. We began organizing monthly informal, bilingual, roundtable discussions in small groups of ten to twenty people. These groups discussed various issues related to art and institutions, and organized art events, public forums, video screenings, live performances, and exhibitions. We called the project TAS for short in reference to the SI (the Situationist International of the 1960s) and the AS (the Art Sociologique, a post-Situationist movement that took place in Switzerland and France in the 1970s).
When we started TAS, I was twenty-four years old, still young, and with a passion for the organization that sometimes got carried away. In retrospect, the Japanese art scene in the early 1990s was similar to that of present-day China. It was at the beginning of its boom within the international art market. There were many exhibitions featuring Japanese contemporary art organized in the United States and Europe, and many curators and art dealers were visiting Japan searching for young art stars. There was a very optimistic atmosphere with high expectations as Japanese artists became involved with the "international art scene." In this context, inserting a critical discourse seemed crucial and urgently necessary.
Please Note
😵 This is an excerpt of a 2,488 word text. You can purchase the piece for $2 CDN. A link to the full article will be emailed within 1 hour of your payment. Subscribers receive full access to all content—just click the key icon to the right to log in.
Full Text$2.00
About the Author
Makiko Hara is the curator at Centre A: Vancouver International Centre for Contemporary Asian Art. She has curated numerous contemporary art exhibitions by Japanese, Canadian, and international artists and has served as project coordinator for several international exhibitions, including the International Triennale of Contemporary Art in Yokohama, 2001/2005; and The Echigo Tsumari Art Triennale, 2003.
You Might Also Enjoy