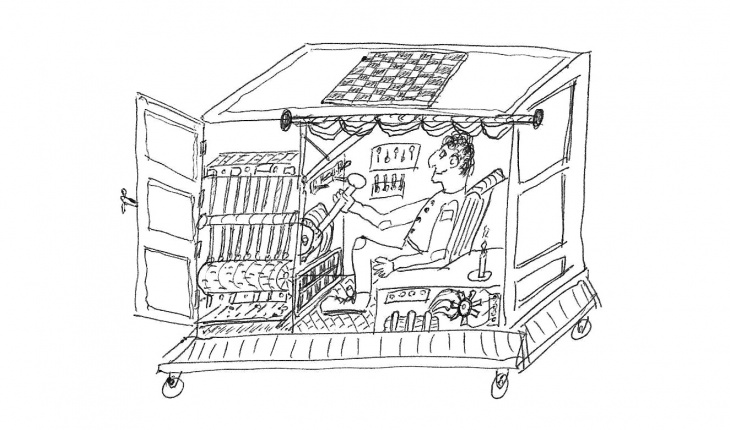 Don't Take Any Jobs

Matthew Stadler
This is a story about collaboration gone wrong. It begins when a literary journal asks Matthew Stadler to write an essay for them. It ends in tears, when Matthew fails to write an acceptable draft and turns to a Mechanical Turk for help.
In 1989 I was in Holland trying to write a novel when I went broke. I wasn't "legal" because my stated profession (writer) wasn't a profession at all, but something I toiled at without pay. The policemen in Groningen had grown tired of me. I wasn't a student; I wasn't a tourist; I didn't take jobs. I claimed to be a writer, but no one had published me. I spent my days at the library and the provincial archives, wrote my novel, and lived a cheap, Unabomberish existence that fell well off the grid of Dutch legal categories.
Once a month I reported to the police department, where they were working to resolve my case. Every month I encountered the same sergeant, the same small, metal desk, the same thin clutch of useless papers, the same exasperated sighs. On the fifth visit, the sergeant told me to just stop coming. "Don't take any jobs and please don't bother us," is actually what he told me.
When I went broke, I moved back to Seattle, where a private school said they would hire me to teach. My qualifications were better (I had taught at a K-12 school in Manhattan before moving to Holland), and I arrived, mid-winter, to a job in my home town with people very much like my parents, teaching children very much like I had been, in a building very much like the one where I had gone to school. Everything about "this, my new life" (a phrase that lodged itself inside my head the moment I disembarked from the airplane) seemed fitting for the kind of writer I was (ceaselessly toiling, forever obscure, scholarly, and tweedy). But it didn't last long.
First, someone (Scribner's) bought the novel I had written before moving to Holland. Second, I learned that a teacher at the school had been fired for having sex with one of the students. What revelations! This news was especially interesting because sex offenders had become my subject. The Dutch research was on hold (separated from me by "this, my new life") and I had begun writing what some have since characterized as a "sympathetic portrait" of a man arrested for having sex with a boy. The coincidence was uncanny. When I met my new principal for lunch and told her all this delightful news, she looked at me in horror and suggested that it would be better if I didn't teach at her school.
And that is how I became a professional writer. It's remarkable how most of our lies eventually come true.
At this point in the draft, you told me via e-mail that the essay was veering off course and you inserted some suggestions as follows:
Matthew: Here is where I could see another focus developing that might or might not include some of what's below now. I think for the piece to work for this section, a particular anecdote (perhaps drawn from what you already wrote, perhaps something different, we can talk about it) should be relayed here rather than these paragraphs being more generally about the class, which is fascinating (and exciting!), but somehow doesn't seem like it will be right for this opening part of the mag. The tone you start with in Amsterdam with the police, the don't take any jobs, to Seattle and sex offenders, is great. Might there be another tangent you'd be interested in pursuing from that starting point, possibly still using the grunge backdrop? I like the idea of DIY standing for don't take any jobs, esp. now that it's been co-opted by Urban Outfitters and other jobful locales…also the bleed between disciplines. But I wonder what other possibilities might come from the DTAJ premise (maybe another lie come true)?
Please Note
💩 This is an excerpt of a 1,470 word text. You can purchase the piece for $2 CDN. A link to the full article will be emailed within 1 hour of your payment. Subscribers receive full access to all content—just click the key icon to the right to log in.
Full Text$2.00
About the Author
Matthew Stadler is a novelist who also writes about art and architecture for various publications, including Frieze, Artforum, Volume, The Organ, Domus, The Oregonian, and Nest Magazine, where he was the literary editor. He is also the co-founder of Clear Cut Press.
You Might Also Enjoy