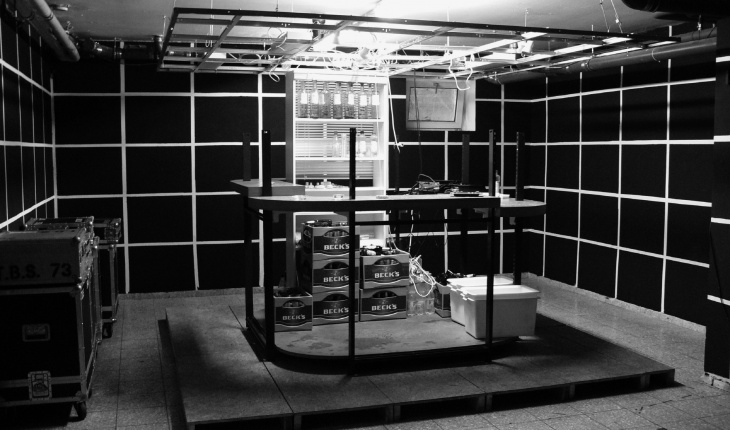 (Find us at the kitchen door) at unitednationsplaza

Hadley+Maxwell
unitednationsplaza (the unp) is an experimental exhibition/educational institution located in former East Berlin. Nestled in the shadows of romantic plattenbau apartments, the unp building is a small, square box that sits at the rear of a big-box food retailer. One passes by a dumpster to enter through an unassuming metal door. The facilities are modest, almost Spartan: a seminar room, a kitchen, a toilette, an office upstairs, and a bar in the basement. The seminar room features an all-white interior with simply constructed, and remarkably uncomfortable, white cubes for seating that can be reconfigured into various formats from bleachers to barricades. There is a "beamer," with an underwhelming computer-speaker system for powerpoint and video presentations, panel discussions, and soft-voiced lecturers.1
The unp rises from the ashes of the implosion of Manifesta 6, famous for the legal arguments that have ensued since its cancellation.2 The proposed program for Manifesta 6 was to use an educational model. An examination of Anton Vidokle's "Exhibition as School in a Divided City"3 reveals his research of other experimental arts institutions, with a particular interest in George Maciunas' New Marlboro Centre for Arts.4 The site for Manifesta 6 was no mere retreat into the comfort of a pastoral campus, but was to be situated within the politically charged city of Nicosia, Cyprus, at a crucial moment in its conflicted history. With this in mind, Manifesta 6 was a proposal to create a space for new social and political possibilities of artistic production by demanding a certain investment of time from its participants, thus possibly avoiding the typical pattern of artists who drop in and take off from many large-scale international exhibitions. In its conflation of politics and art, discourse, and practice, the unp seems to be an attempt to recover some of the work put into Manifesta 6.
In light of the original gesture that initiated the unp, and in the spirit of what we have come to enjoy as the gift of the unitednationsplaza (poetically demonstrated by the bold urgency of crushing together three overloaded and strangely fashionable words), we will consider the unp here as an experiment with the form and function of an exhibition as school.5
The unp as an institution is dynamic and fragile. It evokes an educational institution, but it does so by saying it in the manner of Herman Melville's Bartleby, "I would prefer not to." Consider this phrase polemically, as a threshold of judgment that suspends the suspension of disbelief. For instance, you agree to write an article that you feel you should write, but you would prefer not to. You commit, but somehow defer at the same time. This is an ethical relation to the finality of decision-making,6 and can be linked to the unp to describe how a notion of "exhibition as school" appears within the field of experiments in art and education. The unp deploys a weak force, easily eclipsed by more tangible (social and political) concerns. To sense the unp as an institution that would prefer not to is to maintain its fragile and dynamic character.
Please Note
😱 This is an excerpt of a 2,722 word text. You can purchase the piece for $2 CDN. A link to the full article will be emailed within 1 hour of your payment. Subscribers receive full access to all content—just click the key icon to the right to log in.
Full Text$2.00
About the Author
Hadley+Maxwell have been working together since 1997. They have performed, published, and exhibited their work internationally in solo exhibitions at the Contemporary Art Gallery (Vancouver), Künstlerhaus Bethanien (Berlin), Kunstverein Göttingen, and SMART Project Space (Amsterdam), among others, and in group exhibitions at the National Gallery of Canada (Ottawa), the Taipei Fine Arts Museum, the Seattle Art Museum, La Kunsthalle Mulhouse, Witte de With Center for Contemporary Art (Rotterdam), Manif d'art 5 de Québec (Quebec City), and the 4th Marrakech Biennale. They studied media philosophy at the European Graduate School in Switzerland (2004), teach at the Piet Zwart Institute in Rotterdam, and live in Berlin.
You Might Also Enjoy