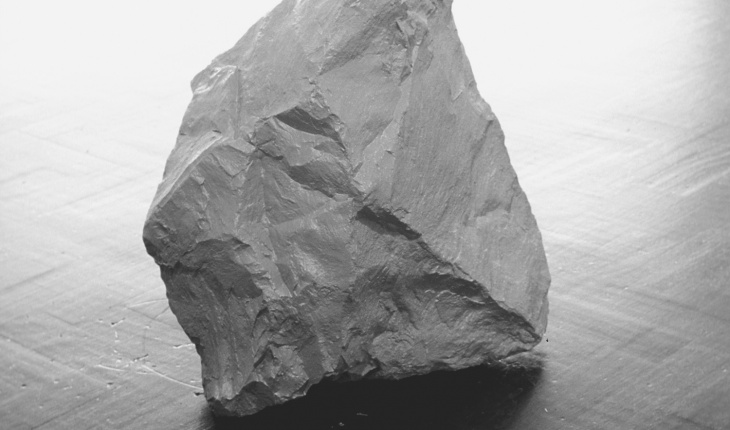 Dialogue & Distance

Warren Arcan
Seven pieces. Some on the floor, some on the wall. Pretty Paint on Blue Granite (2005): a piece of granite about the size of a cow's head is painted hot pink and sits near the entrance. Anti-Brancusi (2005) is a smooth rock from the Po River. Serpentine, the size of a foot, it sits atop a stack of boxes printed with commercial messages; a stick is attached to the rock and to the stick, a cardboard message. Black Walnut (2005) is a cluster of objects and text hanging on the same wall and connected by a title. Street Level Treatise on Money and Work (2005) is a grouping of flyers, handwritten notes, and scraps of trash, individually framed and hung on the wall. In Memory of the Exxon Valdez (2005) is a short length of PVC piping presented at an angle with a dribbling of paint coming down its side. Your Face and Science (2005) is a piece I barely recall, except that it's a collection of objects—found materials—and text. Finally, there is a DVD about an action Jimmie Durham did in Lille.
The objects are grouped, named, and sometimes given colour and text. Their status as things stands. They resemble themselves, the way real people are credited in movies ("Also starring PVC pipe as himself"). As Durham explains: "One of the interesting properties of both words and objects is that they repel each other. I often like to combine them in artwork by nailing or gluing them together because of the vibration this causes."1
Art and writing, the relations of objects and language, are a major muscle group in Knew Urk. The exhibition's inclusion of text is not an attempt to finalize the destiny of objects. It describes a relationship, something temporal and meaningless outside a dialogue and interaction, and is in that way non-hierarchical. I don't think I'm being idealistic when I say this. It's about Durham's way of working with materials that becomes the work. Perhaps it's better to say that he and the materials collaborate. This is his account: "[I have] the material first, and the material begins to talk, and I begin to think because I'm working with the material."2 He calls it a kind of play. Not intellectual play, but monkey play, which I understand as being a way of thinking with the body. Durham has a past in political work at the international level, including time spent at the United Nations on behalf of Aboriginal interests. Since the 1970s, he has been strategizing and alliance building, looking to gain legitimacy for Aboriginal groups as nations among other nations.
As a Cherokee, Durham conceptualizes Aboriginal political predicaments as international crises. This is a view that has informed his art practice: "I make something and then I join that something to another something and there begins a kind of political work and it begins to be political at that point."3 This joining of found objects, materials, and text exists as a kind of congress that occurs at all border regions. Whenever strangers meet there's an erotic effect and hybridity result: half-breeds, mixed bloods, orphans, the homeless, refugees, itinerants, and wanderers along with their strange children, fragments, and odd skill sets. The pieces in Knew Urk wander like alluring vagrants in the international zone.
Please Note
😜 This is an excerpt of a 1,380 word text. You can purchase the piece for $2 CDN. A link to the full article will be emailed within 1 hour of your payment. Subscribers receive full access to all content—just click the key icon to the right to log in.
Full Text$2.00
About the Author
Warren Arcan is a Vancouver-based interdiscliplinary artist.
You Might Also Enjoy