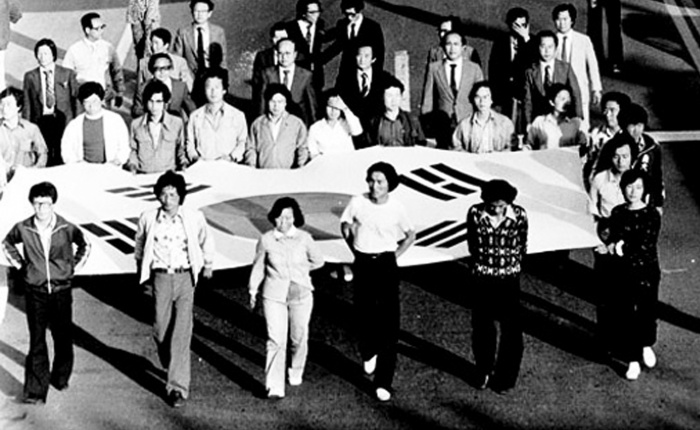 On Carnival and 
Contractual Curating

Claire Tancons and Jesse McKee
Claire Tancons is a curator from the Caribbean island of Guadeloupe who is now based in New Orleans. For the past five years, Tancons has dedicated her work to the study of Carnival. Specifically, her research, writing, and exhibitions have explored and scrutinized Carnival practices from the Caribbean, South America, and Africa, arguing for these "New World" (i.e., modern) celebrations of Carnival to become part of art historical and contemporary art narratives. Tancons has pushed for the recognition of Carnival as more than a form of popular entertainment or ethnological curiosity. At the 7th Gwangju Biennale (2008), Annual Report: A Year in Exhibitions, directed by Okwui Enwezor, Tancons, one of the curators, organized the mobile exhibition Spring, which took the form of a procession, lasting ninety minutes and showcasing the work of Carnival designers and contemporary artists alike. A series of costumes, floats, and elaborate kinetic sculptures were activated by hordes of local students as the procession played out in the streets of Gwangju. Spring's rallying point was upon its arrival at the city's Democratic Plaza. This exhibition reverberated distantly but poignantly with the local history of Gwangju, which is probably best known as the site of a crucial popular uprising in May 1980. This uprising, which was spurred by a constellation of students, labour unions, and religious organizations, is largely seen as a key catalyst in the overthrow of South Korea's postwar military dictatorship. Spring was able to combine the language of Carnival, the apparatuses of contemporary art, and the history of Gwangju into a perfect synthesis of what theorist Irit Rogoff sees as the intensifying relationship between the circuits of art and cultural globalization. In this decentralized network, where biennials play a major role, research, exchange, and dialogue use specific local features to illuminate regional conditions in various parts of the world. As a result, new conversations take place between the political, social, and economic. 

Rogoff states that conversations such as these are "located in the aftermath of colonialism, diffusionism, and post-colonial self-constitution on the one hand, and on the other hand within their concomitant, ever growing diasporas."1 Tancons successfully used her local and scholarly knowledge of Carnival to inform Spring's theoretical mapping. The platform of the biennial served as the exhibition's machinery, and the buoyant public sphere of South Korea served as its fuel. This procession format for an exhibition has also been enacted by Tancons as part of CAPE 09 in Cape Town, South Africa, and a future procession in this style is planned for the inaugural run of the Harlem Biennial in 2012.

Jesse McKee: I wanted to start with something that has been on my mind lately. It is this gap between curatorial framing and the reality of the exhibition. In his essay "What's the Point of Art Centres Anyway? Possibility, Art and Democratic Deviance,"2 Charles Esche states: "Reality can never match the rhetoric though it does not mean that the rhetoric itself is not needed." I was hoping you might be able to elaborate on this idea—your procession format for an exhibition is wonderfully succinct in this regard. As you've previously written, the thinking and the practice of your exhibitions are coterminous. 


Claire Tancons: Let me start with an anecdote. I was at an international curatorial conference organized by UC [University of California] Santa Cruz Museum and Curatorial Studies entitled The Task of the Curator: Translation, Intervention and Innovation in Exhibitionary Practice. A young curator presented an exhibition in which she featured faux skeletons of the Tooth Fairy, Santa Claus, and the Easter Bunny, designed specifically to counter audience expectations about the museum's mission to present authentic cultural artifacts. I presented my research and curatorial practice on Carnival. Hardly surprisingly, it is much more difficult to legitimize Carnival as a topic worthy of artistic appraisal and curatorial attention than the Tooth Fairy or the Easter Bunny. 

Three things quickly became apparent within the context of the conference. First, invented artifacts around Western cultural icons have way more currency and legitimacy than actual objects and practices that fall outside of the Euro-American canon. Second, curators are reluctant at best, unwilling for the most part, to envision curatorial practice outside not just the physical space of the gallery but the frame of reference of the museum, i.e., Western models of cultural presentation, conservation, and preservation. Third, art institutions are comfortable exhibiting only a very small percentage of the world's cultural production and addressing an even smaller percentage of the world's cultural consumers.

Please Note
😒 This is an excerpt of a 2,895 word text. You can purchase the piece for $2 CDN. A link to the full article will be emailed within 1 hour of your payment. Subscribers receive full access to all content—just click the key icon to the right to log in.
Full Text$2.00
About the Authors
Claire Tancons is a curator, writer, and researcher whose work focuses on Carnival, public ceremonial culture, and protest movements. She was the associate curator for Prospect.1 and Contemporary Arts Center, both in New Orleans (2007–09), a curator for the 7th Gwangju Biennale (2008), a guest curator for CAPE09 (2009), and is the currently the curatorial director for the Harlem Biennale. She splits her time between New Orleans and New York.
Jesse McKee is Exhibitions Curator at the Western Front, Vancouver. He holds an MA in Curating Contemporary Art from the Royal College of Art, London.

You Might Also Enjoy