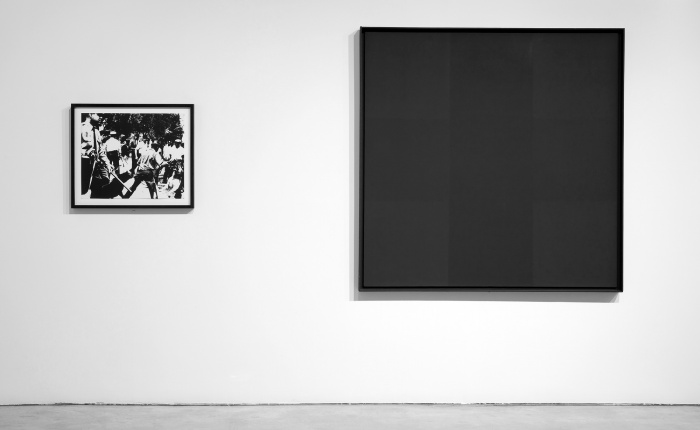 Re: Democracy and the Demos



Lawrence Rinder and Shepherd Steiner
Shepherd Steiner: I assume you received the invitation from Fillip to have a conversation on democracy and the demos in art. What do you think? Eggleston's and Tuttle's approaches to the problem seem light years away from each other, but perhaps that would serve us.... 

My own investment in singularity is for instance nowhere present in the essay on Eggleston. And perhaps the self-curatorial problems I outline in Eggleston's photography 
as a mutable narrative without privilege finds a responsive curatorial ear in you. Roger Buergel's curatorial project may be a halfway house. As a close reader of singular images, I have always been struck by his insistence on a metonymic machinery of presentation that disallows any one work from assuming the dominant and instead institutes the substitute. Anyway, I look forward to hearing from you, whatever your thoughts.

Larry Rinder: 
Eggleston has always been a great favourite of mine (William Eggleston's Guide was 
the first art book I ever purchased). Also, I've been working on an essay about Raoul De Keyser and am trying to put forth some thoughts on the "democratic" syntax his work implies. So your essay was reassuring. I hadn't known that Eggleston had explicit notions about "photographing democratically." It certainly is clear from seeing his work that to some degree every subject is as good as the next: society lady = hunting dog = parking barrier. Something in this resonates for me with Jacques Rancière's conception of the aesthetic regime and the homostatization of themes in writers like Flaubert. Tuttle is an interesting case in relation to this since, at first glance, his works seem to be radically homostatized, that is, broken down to the thinnest degree of difference, both from each other and from non-aesthetic things. Yet, as I described in my Fillip essay, his pieces are finally precisely about difference, explicitly in relation to individuation in a capitalist democracy. 

Your text drew for me a clear line between the opportunity to open a "democratic" space in the syntax of an artistic project (i.e., Eggleston's or, perhaps, De Keyser's) and the possibility for doing so in curatorial work. My own curatorial practice is strongly influenced by that of Group Material, whose work demonstrated the quite radical possibilities inherent in a multidirectional, nonlinear curatorial approach. In fact, I have just opened an exhibition of works from Berkeley Art Museum/Pacific Film Archive's collection that I've installed every which way, in clusters that make sense only through their arrangement and are organized more or less without regard to period, medium, or theme. My work with Nayland Blake on In a Different Light was helpful, too, in demonstrating to me the advantage of curating from art rather than from an idea. Nayland, being an artist, gave me a kind of permission to "tune" to currents within and between the works and to draw conclusions from these. I wonder if you could tell me a bit about your own "investment in singularity"?

Steiner: 
Your idea of "curating from art rather than from an idea" interests me greatly. In fact, my investment in singularity hinges on my commitment to close reading, which 
I could describe as a kind of interpretation keyed to art rather than keyed to ideas. In a sense, good art history should take place at least partly in the gallery, something that also brings it in far closer contact to art criticism than most academics like. I like to say I use theory rather than apply it, because of this pragmatic approach to the object—the premise being that there is a theory of interpretation or reading built into every object. Essentially, curating under the auspices of a theoretical umbrella—which was a favorite pastime on the biennale circuit, as you know—is of the same order of misuse and abuse that the object receives when under the interpretative gaze of the social art historian or structural linguist. The presuppositions implicit to each of those accounts are what kills the possibility of a reading—reading being a very loaded word for contemporary deconstruction. Rather 
than responding to the work (potentially an ethical orientation given the proximity 
to responsibility), the social art historian or semiotician merely interprets the work (a self-centred orientation shot-through by orthodox politics, or general notions of language). So singularity is an ethical demand that I try to animate. For instance, Eggleston's Los Alamos, like Tuttle's work, or any one single example of painting by de Keyser, demands absolutely unique accounts to the extent, I guess, if one were to radicalize things as I tend to do and believe to be necessary, that even the system of photographs in The William Eggleston Guide are radically different from the system implicit to Los Alamos. I think this variable approach to the works—what T. J. Clark or Michael Fried acknowledge as close reading—puts one in the vicinity of democratic-type questions especially to do with language. Ethics is now the terrain of the political, and given the current hegemony of a liberal ethics the world over, one must find ways to work within that general framework, singularity being the principal avenue.

I would say close reading helps us begin to neutralize some of the open-ended problems that art in democracy presents, at least one being the individuation of ideas, practices, or ways of painting or photographing things that are unique to objects made by Tuttle, or paintings made by de Keyser, and another being the individuation of interpretative problems focussed in the subject (i.e., respondent) within the context of close reading. I think figural problems or the exchange relation have to be negotiated in both places.

De Keyser's work at Whitechapel in 2004 was a total revelation for me. He is such a transparent painter that one needn't be schooled in painting to recognize his impulsiveness at one moment or anger at another. Second thoughts are always right on the surface of his works, and sometimes on their sides, as in _Clochard _, which is a painting I will never forget. One sees traces of the painter's decision to re-stretch his canvas after beginning. Some order of dissatisfaction prompted him to shift the canvas over a few inches, resulting in a painted overlap. Is this what you mean by a democratic syntax? Or otherwise? I tend also to want to interpret your remarks in terms of relational questions intrinsic to single works. For instance, in _Baron in an Al Held Field _(1964–66), I read the top right corner as a mistake that says, "I can't get it right, but look at the other corner, it is near perfect," and, even more acutely, the dialogue between the lower right and left edges of _Dalton _(1990). Along the right-hand edge of the canvas one sees the traces of what seems like a premeditated hatch marking. Lower down the hatching takes on a sharper, forced look where it seems as if colour has been scraped off with a thumbnail. The echo of this intentional focus—as looser swirls of the brush at the left side that do not quite reach the edge of the canvas—looks accidental. It is as if the seasoned Sunday painter suddenly realized that concentration on the right side of the painting was producing something entirely other on the left side and then amended this horrible inequity by staging intention through the exaggeration of hatching at the lower right.

Please Note
😱 This is an excerpt of a 4,059 word text. You can purchase the piece for $2 CDN. A link to the full article will be emailed within 1 hour of your payment. Subscribers receive full access to all content—just click the key icon to the right to log in.
Full Text$2.00
About the Authors
Lawrence Rinder is Director of the Berkeley Art Museum and Pacific Film Archive. He is Dean of Graduate Studies at the California College of the Arts in San Francisco.
Shepherd Steiner teaches Modern and Contemporary Art History at the University of Florida. Recent publications include Snow Changes Everything: Unfinished Form in the Filmwork of Ibon Aranberri (Funadcio Tapies, 2009); "(Art and) Democracy | Hegemony (and Anarchy)," in Becoming Dutch (Eindhoven, 2009) and "Curatorial Formalism and Tinkering with the Political on the Far Side of the Subject at Documenta XII" (Journal of Visual Culture, 2008). His curatorial project focussing on American painting and video art, titled Acts of Non-Agression: 1960–76, opened at the Van Abbe Museum, Eindhoven, in September 2008. He is currently finishing a book on Modernism titled Mnemotechnical Bodies: Close Readings in Modernist Painting, Sculpture, and Criticism.
You Might Also Enjoy