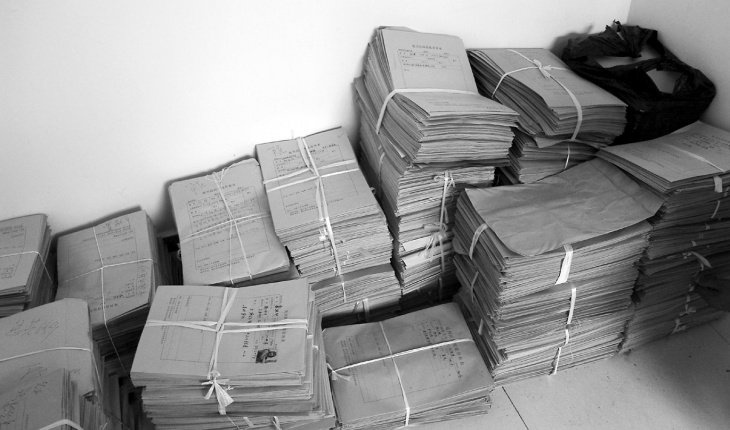 The Long March Project

Lu Jie
On the evening of October 12, 2005 the Vancouver Art Gallery presented "Dialogues on Art: Lu Jie in Conversation with Shengtian Zheng and Hsingyuan Tsao." The presentation was organized in conjunction with the exhibition Classified Materials: Accumulations, Archives, Artists.
Lu Jie: The Long March Project was initiated in 1999 when I was a curatorial studies student at London University. During that time I developed a critique of the representation of politics in the context of international Chinese art exhibitions. I was thinking about the ways that contemporary art practice could connect with social development and social change. I developed the Long March Project as an organic structure that could parallel the grand narrative of the historical Long March initiated by Mao Zedong. I developed the idea that a number of sites could be created according to this historical Long March—this search for utopia, this sharing of resources, this going beyond the limits of body and ideology.
After several years of preparation, the Long March Foundation was established in New York in 2000. I spent two years visiting the six thousand miles historical Long March route. In 2002, we established the 25,000 Cultural Transmission Center in Beijing before launching the project that summer. After a three-month journey, twelve of the twenty planned sites were completed. We already had the contribution of two-hundred-and-fifty local and international artists. People thought that the government would stop us, but there were no political problems.
In the Yanchuan papercutting survey—which we believe is a milestone of the whole Long March up until today—we asked questions such as: what do we do with the so-called folk artists who live in China, whose life and profession is all based on an aesthetic that we do not value? This work is something that other curators and institutions do not deal with. But for the Long March Project—a project that wants to face reality—the different social hierarchies and historical frameworks all connect together to create a new understanding of contemporary Chinese art. So we believed from the very beginning that folk art, such as paper-cutting, is something that should be re-examined.
The project started in January 2004 and was completed in August of that year. We worked with one hundred volunteers and artists, and after five years of surveying, the results was a collection of fifteen thousand plus six survey forms and samples of work.
[...]Yanchuan County is located in Northern China in Xinjiang Province. It is closed to Yan'an, the final destination of the historical Long March. The county has eight towns and nine districts, and three-hundred-and-forty-six administrative villages. We sent artists to Yanchuan to connect with the community so that people would feel comfortable participating in our paper­cutting survey. There is a very strong cultural folk art tradition in these areas, including dance, singing, storytelling, papercutting, puppet theatre. All of these art forms are connected to papercutting. It is the visual foundation of these other cultural forms in this region.
[...]Our policy was to visit (with the help of one hundred volunteers) every village, every family, and every single human being in Yanchuan. We encountered huge challenges because it had to be a very organized governmental action. For those people who had been totally abandoned, whose art had been totally forgotten, an encounter with people from Shanghai, Beijing, and New York made them anxious. People would often run away. They would say, "I need to go to the toilet," and they would not return. It was very challenging for our artists, curators, and volunteers. The issue became one of how to work with the community.
The survey form we designed tried to incorporate more data than just art. We were interested in gender, ethnic origin, education, economic situation, and even political point of view. We tried to allow people to communicate and choose how they would like to be recorded for the urban audiences of the Shanghai Biennale or the city intellectuals in Taipei. It was a very important moment for both groups[...] The papercuttings that we surveyed were a combination of different genres, styles, and motifs. In this art form we see traces of the modern artists from thirties Shanghai, who answered Mao Zedong's call to change society. In 1930, intellectuals, writers, and composers all rushed off to join the revolution. The contemporary papercutting work shows these past influences translated by Shanghai modern artists (mostly printmakers), the traces of German woodcutting, of social realism, the influence of 1950s social campaign, and the urban intellectuals in the villages. To the local community, papercutting has always been the most sensitive expression of their life experience, knowledge, and history.
Please Note
😒 This is an excerpt of a 2,664 word text. You can purchase the piece for $2 CDN. A link to the full article will be emailed within 1 hour of your payment. Subscribers receive full access to all content—just click the key icon to the right to log in.
Full Text$2.00
About the Author
Lu Jie is the founder and director of the Long March Foundation, New York and the 25,000 Cultural Transmission Center, Beijing. Over the past six years, Lu Jie has been concentrating his efforts to produce the Long March Project, portions of which have been exhibited internationally including in the 2004 Shanghai Biennale, the 2004 Taipei Biennale, and most recently at the Vancouver Art Gallery.
You Might Also Enjoy