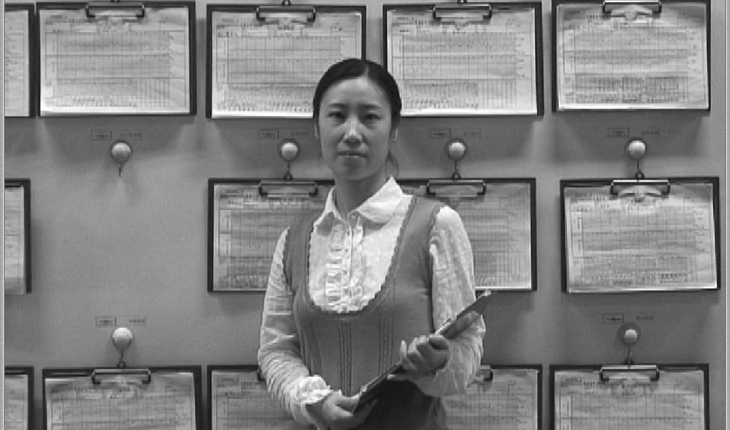 Your Utopia Is Ours

Cao Fei and Jordan Strom
>Speaking recently of the wooden sculptural city she made for the China Month Project at Robert Wilson's Water Mill Center in New York, Cao Fei described the work, "like Shanghai or Manhattan," in that it looked "very beautiful but empty inside." Resembling the skyline of Guangzhou or the big box factories of the Pearl River Delta where she has situated most of her projects, Cao is transfixed by the spaces of urban capitalism and its effects on the lives of workers, youths, lovers, entertainers, and street hawkers that occupy them. Playing the seam of documentary and artifice with a good deal of agility, the artist is one of a younger generation of artists who is busy fusing digital technologies with traditional theatrical forms and contemporary cultural phenomena.
>Unlike her father—a successful seventy-four year old State sculptor—Cao opts for a multiplicity of roles: filmmaker, playwright, photographer, composer, sculptor, and video artist. After she gave up the flared costumes and heavy makeup of projects such as COSplayers (2004) and PRD Anti-Heroes (2005) there was a transition in her work toward the shop-floor realism of her 2006 Sydney Biennale project What are you doing here? While still concerned with youth, Cao Fei's work has recently taken another turn—this time toward nature, escape, and the environmental impact of tourism.
>Recently in Vancouver for exhibitions at Artspeak and Presentation House in conjunction with Territories—a large group show which scattered itself across several of the city's municipalities—the artist sat down late one summer night to discuss some of the recent shifts in her work.
Jordan Strom – If there is one element that seems to run through the majority of your projects, it's dance. From the choreographed revolutionary dancing of PRD Anti-heroes troupe and the gangly proto-electro movement of Hip Hop (2003) to the onastic waltzing of the milk delivery boy in Milkman (2005), what is it about dance that is important for you to repeatedly include it in your work?
Cao Fei – Dance is part of my personal history. I used to do a lot of street dancing when I was an early teen. Not hip hop per se. I performed what is called street dance. I would tell my parents that I was going to night school, but instead I would take the money to go to dance on the street. We would go as a group. Some streets were more quiet than others. We would bring our ghetto blaster and dance all afternoon and night. Later it shifted to the clubs, but early on it was the street that was important.
Strom – You clearly took this experience of dancing and the theatre of the street for inspiration in your projects such as Hip Hop where you capture different individuals (workers, students, police, grandparents) dancing their own interpretation of a hip hop style. The echoes of American youth culture can be found in your other works too. Where did your knowledge of this youth culture derive from?
Cao – I saw lots of MTV when I young. I learned a great deal through TV, especially Hong Kong television that was broadcast in Guangzhou. It was a mix of Hong Kong and Western programming.
Strom – The curator and interview-raconteur Hans Ulrich Obrist has spoken recently about the manner in which you use pop culture. He says that you don't use it in the common way that artists often deploy it as—a "ubiquitous orgy of appropriation or revival." Instead, you use pop culture as a bridge between different ideas. Could you talk about this bridging—and the notion of hybridity—that the viewer finds in your work.
Cao – My generation grew up in a situation of hybridity. Many outsiders think that me and my peers were isolated, but hybrid influences have always been there. We were already hybrids. We cannot exactly differentiate that from what was the original and what was the traditional because, as in COSplayers, there's nothing that we can exactly belong to.
Please Note
💩 This is an excerpt of a 2,573 word text. You can purchase the piece for $2 CDN. A link to the full article will be emailed within 1 hour of your payment. Subscribers receive full access to all content—just click the key icon to the right to log in.
Full Text$2.00
About the Authors
Cao Fei is a Guangzhou-based artist whose practice includes performances, photography, film, and theatrical works. Her works have been included in many exhibitions of contemporary Chinese art including biennials in Sydney, Moscow, and Fukuoka.
Jordan Strom is a curator and writer based in Vancouver. He is Founding Editor of Fillip. He currently works as Curator of Exhibitions and Collections at the Surrey Art Gallery.
You Might Also Enjoy