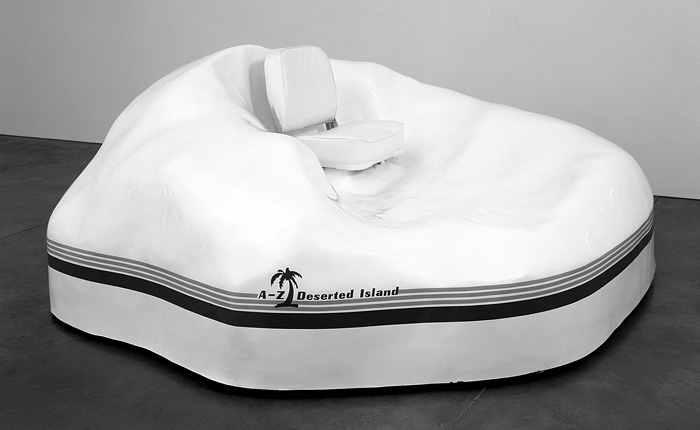 Where Art Meets Design

Lisa Marshall
"Today design rules."1 So begins a recent review in Artforum. What happens when design rules? The collection of texts in Design and Art presents a variety of viewpoints. Alex Coles, the volume's editor, explains that his strategy was to run practitioners' texts alongside those by critics and historians. One of the most productive juxtapositions is Dan Graham's "Art as Design/Design as Art" (1986) and Hal Foster's "Design and Crime" (2002).
Graham's essay was first published in conjunction with a 1987 exhibition of his Three Linked Cubes/Interior Design for Space Showing Videotapes (1986). His strategy of shifting works between traditional categorical boundaries is key to Graham's long-standing investigation into the psychosocial effects of structures and systems in order to produce a Brechtian truth-telling effect. Graham's own sculpture/furniture projects demonstrate how signification and valuation of an object depends its positioning within framing systems. Influential since the late 1960s, Graham has long implied that the autonomy of art is a conservative myth. He backs a strategy of shifting the boundaries between cultural fields to reveal a hidden truth about how culture operates.
With Claes Oldenburg's Bedroom Ensemble (1963), Graham notes how the inclusion of mass-produced "Pollock-esque" prints within an installation resembling a furniture showroom demonstrates the reduction of abstract expressionist painting to decor. The gallery itself becomes a main focus of the work, and the staging of art is likened to the staging of products. As such, Bedroom Ensemble implies an equivalency not only between the subject as consumer of mass-produced objects and the subject as consumer of art, but also between subject and object, revealing mythical aspects of autonomy at a time when Greenbergian modernism was still dominant.
If there is any sort of utopian thread in Graham's essay, it is in his discussion of Minimal art, where he implies that the subject might be returned to some pure, uncorrupted state through a reversal of illusions on the one hand and an awareness of an embodied phenomenological experience on the other. But overall, Graham's position comes close to pessimism—a critical method that deconstructs art and everyday life unveiling a network of determining systems leaving no room for escape. There is truth to Graham's revelations, but as Thierry de Duve has said, there remains a choice "the whole question being whether this is to be regretted or whether one should not instead look for the political where it actually is, where there is decisiveness without eschatology."2
Foster argues in "Design and Crime" that some form of semi-autonomy might be a useful fiction as a mode of resistance against the spectacular dimensions of advanced capitalist society. Since a situation where there are no objective limits makes a critical position impossible, he suggests that now the separation of disciplines should be provisionally reestablished to counter the loss of disciplinary distinctions under contemporary conditions. A crucial aspect of Foster's argument is the transformation of design with the rise of postindustrial technologies. He rightly argues that the digitization of the professions of design and architecture has profoundly changed the underlying logic of the design process. Design, once anchored in material limitations, is now easily manipulated and endlessly reiterated. As digital code, design has become an infinitely flexible system in a culture where the surface value of signs is already enormously inflated. This powerful, invasive new force is what Foster means by design. He wonders how recent changes have affected subjectivity, asking the reader, "Might this 'designed subject' be the unintended offspring of the 'constructed subject' so vaunted in postmodern culture?"
Please Note
😱 This is an excerpt of a 1,748 word text. You can purchase the piece for $2 CDN. A link to the full article will be emailed within 1 hour of your payment. Subscribers receive full access to all content—just click the key icon to the right to log in.
Full Text$2.00
About the Author
Lisa Marshall is a cultural practitioner living in Vancouver. For this issue, she took on the role of art critic.

You Might Also Enjoy