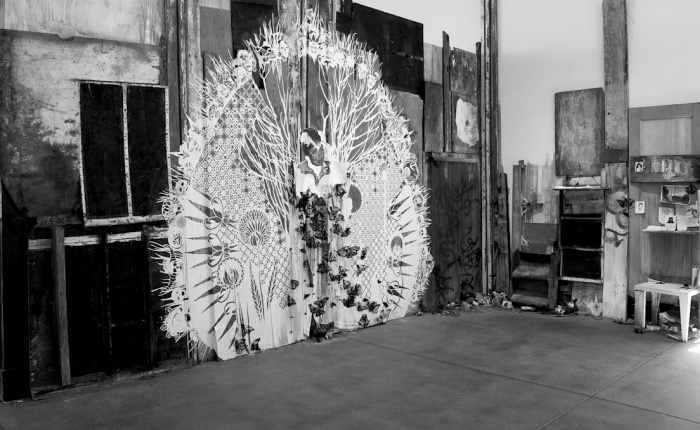 If You Aren't Mad as Hell You Haven't Been Paying Attention

Lea Feinstein and Christian L. Frock
In 2007, a series of high-profile exhibitions re-examined feminist art from a historical perspective, most notably WACK! Art and the Feminist Revolution at the Museum of Contemporary Art, Los Angeles, and Global Feminisms at the Brooklyn Museum. In the San Francisco Bay Area, a number of institutions also presented exhibitions that attempted to explore feminism from a contemporary standpoint.1 Critic Lea Feinstein and independent curator and writer Christian L. Frock sat down to talk about this renewed interest in feminist art.
Christian L. Frock: Recently, in the Bay Area, there were many exhibitions that were positioned as explorations of feminism, and I am not exactly sure that I know why. I saw very few works that felt politically rigourous enough to be called feminist, but perhaps I am applying an outmoded idea of feminism to these exhibitions. For example, is it a "feminist exhibition" when the roster is strictly limited to women artists? Or, is an exhibition inherently feminist when it is organized by a woman curator? What is it that made these exhibitions specifically "feminist"? I feel that if an exhibition is going to be exploring feminism it should examine certain ideas that connect it to feminism as an ideology as it relates to contemporary issues.
Lea Feinstein: Like what?
Frock: Referencing traditional notions of the feminist movement—to my thinking it came about because women were arguing for equality in the workplace; it had to do with reproductive rights, gender identity, sexual politics. And, you can flesh this out because you were part of the second wave. What was the milieu?
Feinstein: I was thinking about that this morning. In retrospect, it is always hard to see what the context was—definitely the Vietnam War, the Civil Rights Movement—and I was thinking, "How did it happen? How did the bra burning happen?" It felt to me like a confluence of events. At the same time, there were male/female struggles at SDS [Students for a Democratic Society], the Weathermen were having debates about men and women sharing power, students were rioting in the colleges....
Frock: And all of this was in response to...?
Feinstein: This is what I would call the climate in which feminism became a movement. Feminist art takes place in this larger context, along with Gloria Steinem and the advent of _Ms. _magazine. It was definitely about reproductive rights, equal rights in the workplace, childcare—all of these things that are still issues and that we are still fighting for. Women were trying to decide what kind of birth control to use and whether to change their last names when they got married or not. They were trying to decide if they could live with their boyfriends without telling their parents. How do all of these things affect the art that was being made as well? In the 70s somebody asked if I wanted to work on this project by a woman named Judy Chicago; women were all going to get together and sew table runners. I said let me see what the work looks like. I looked at some of the plates, and I decided I wasn't interested. I am not a big fan of "vaginal" art, you know?
Frock: What about Carolee Schneeman's scroll?
Feinstein: Yeah, Interior Scroll _(1975). Well, performance art is different—I do like the performance part of it. Annie Sprinkle. She's another later feminist—she just got married in a performance art piece recently at UC Santa Cruz as part of the _Interrupt! Intervene! Art as Social Practice conference this spring. She did another performance once that comes to mind where she basically laid on the stage and invited people to come up and do an exploration of her vagina. I pair that in my mind with Yoko Ono's original performance of Cut Piece _(1965) where she sat still and invited people to come up and cut off her clothes. That level of vulnerability was a hallmark of early feminist performances. The thing that was amazing was that it all cracked open—and I am not talking about Annie Sprinkle now because she was later—I am talking about earlier. I am thinking of the Fluxus artists in the 60s, like Shigeko Kubota's performance _Vagina Painting, _(1965) where she tied a paint brush around her waist so that it hung down between her legs, and then she dipped it in ink and created a long scroll painting during the _Perpetual Fluxus Festival. I think that the vaginal stuff grossed out a lot of people—it grossed out a lot of guys, right and left.
Please Note
😱 This is an excerpt of a 3,359 word text. You can purchase the piece for $2 CDN. A link to the full article will be emailed within 1 hour of your payment. Subscribers receive full access to all content—just click the key icon to the right to log in.
Full Text$2.00
About the Authors
Lea Feinstein
is an artist and critic. Her writing has appeared most recently in Artnews magazine and
SFW
eekly. She lives and works in Stanford, California.
Christian L. Frock is an independent curator and writer. Her independent curatorial endeavor, Invisible Venue, collaborates with artists to present art in unexpected settings in and around a 101-year-old flat in West Oakland.
You Might Also Enjoy