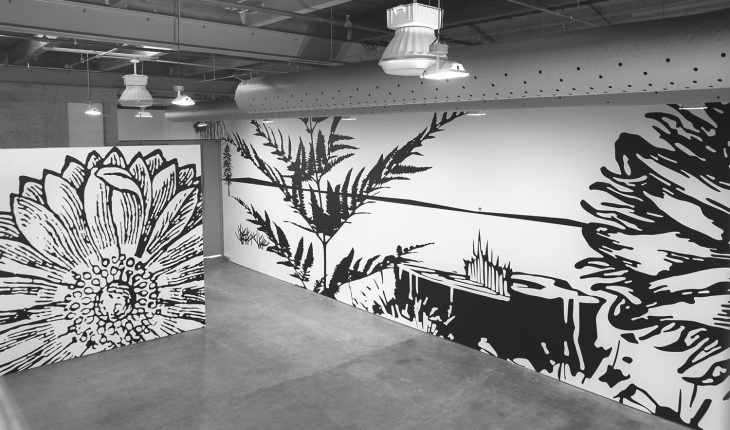 Ulterior Garden Motifs

Fionn Meade
Boys and Flowers attempts to tie together loose tendrils, balancing an assortment of photographs, prints, and paintings—all obviously floral in theme—with more nuanced and challenging video, sound, and mural installations. While the more discrete works on view provide a pleasant traipse, offering such elegant stops as Robert Mapplethorpe's vintage gelatin print Tulip (1984), alongside an unusual cactus flower study by Morris Graves, and an eventual encounter with such clever quips as Amir Zaki's still life photograph Ugly Weed Quite Dead, Same Weed Just Pulled (2002), it is the installation works that bring the exhibition's theme to life.
Drawn as they are from Bill and Ruth True's formidable collection, exhibitions at Western Bridge (open since 2004) showcase works in video, photography, and other media from an impressive international roster of artists (including works by Shirin Neshat, Tacita Dean, Rosemarie Trockel, and Christian Marclay). To date, all have been themed group shows that often revolve around one or more specific commissions. The centrepiece of Boys and Flowers is Paul Morrison's Mesophyte (2006), a black-and-white acrylic mural that inhabits all four walls of the main gallery with his characteristic schematics of oppositional landscape effects. Installed to be a complement for two future exhibitions as well, Morrison's Northwest-inflected fantasy seems a bit toned down in comparison with his other painting installations of recent years, but nevertheless suits his given references. Here, the land-meets-sea vantage of the region is mirrored as black evergreens reflect in silhouette at an invisible water's edge; an isolated stump iconically implies the haunt of repeated clear-cuts; and pictorial scale and style compete in Morrison's penchant for dividing the viewer's attentions with botanically accurate foxglove playing off cartoon fern fronds and against Warholesque flower heads to skew any easy continuity or single perspective.
Stephen Vitiello's aural landscape, by contrast, offers a densely layered, if invisible, forest canopy. Transporting the listener deep into the Amazonian jungle, Hea (2003) explores the synaesthetic nature of augury as practiced by the Yanomami Indians of Brazil. Having travelled to a remote village as part of a 2003 Cartier Foundation exhibition, Yanomami: The Spirit of the Forest, Vitiello joined video artists Gary Hill, Tony Oursler, and nine other Western artists in creating responses to the ritual practices and everyday realities of a remarkably isolated and intact native culture. As he follows a local shaman into the forest with his sound equipment, the artist is present while visions of the future are plucked from the cacophony of the jungle by the practitioner. What makes the work so dynamic is its blindness to the portent of any possible discoveries made; rather, Vitiello offers only the textured response of an outsider's presence amidst such primal flora and fauna in his layering of bird sounds with wind and clamorous cicadas. As a result, the 5.1 surround sound composition alternates a light, vertical feeling of sun with the guttural punctuation of the shaman's nocturnal communing. This tact eschews any attempt at arranging profound insight where there is none and uses more than seventeen hours of continuous recordings to create a more meditative and measured ambience. Vitiello knowingly includes a hammock in the installation, slung up to remind listeners of the outsider's temporary and privileged residency. Hea plays incisively on the tensions implied in the original project's flirtation with faux ethnography and gracefully avoids the overreaching that befell some of the other projects.
Please Note
😱 This is an excerpt of a 1,071 word text. You can purchase the piece for $2 CDN. A link to the full article will be emailed within 1 hour of your payment. Subscribers receive full access to all content—just click the key icon to the right to log in.
Full Text$2.00
About the Author
Fionn Meade is a writer and curator living in Seattle whose writing has recently appeared in Bomb Magazine, NYFA Current, and The Stranger among other venues. Nocturnes, a curatorial project exploring animation works by four artists working from their studio practice, will open at the Boise Art Museum next year. He also curates programs at the Henry Art Gallery.
You Might Also Enjoy