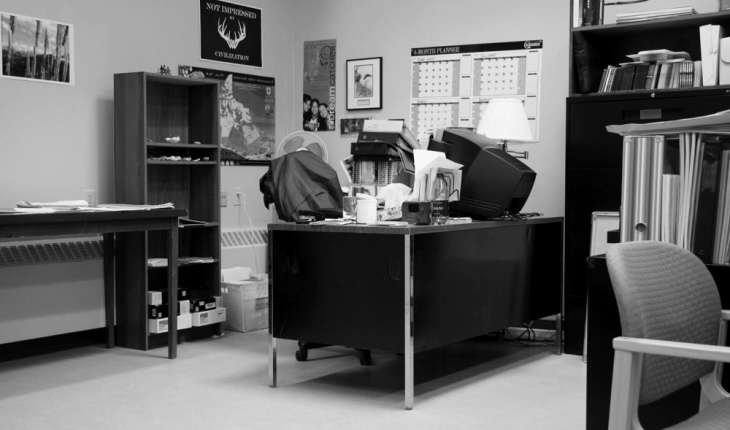 Marked as Withdrawn

Cheryl Meszaros
The image […] is given in an opening that indissociably forms its presence and its strangeness.1
Jean-Luc Nancy—that gentle yet fierce philosopher of sense and community—has turned his formidable gaze toward the arts many times throughout his life. In each of these encounters, he offers the arts as access—access to sense. This sense, though, does not "appeal to sense as prior content; it does not communicate any sense, but makes it."2 Nancy performs this startling arrival of sense for us with his texts. To watch these texts perform their melodic dance of precision—to watch them make sense—is to be touched, however fleetingly, by thinking itself. It is this gentle touch of Nancy's thought as it whirls toward sense that I pursue here, following one line of thought through two of his books and landing, resting for a moment, in the company of a Scenes Unseen, a recent installation by Vancouver artist Ruth Beer at the Western Front Gallery in Vancouver.
Nancy's thought works toward sense by un-working the stability of meaning that clusters around evocative words such as surprise, the distinct, and by contrasting it to conventional notions of Sense. In The Muses, he takes up the surprise:
Man began with the strangeness of his own humanity. Or with the humanity of his own strangeness. Through this strangeness he presented himself: he presented it, or figured it to himself. Such was the self-knowledge of man, that his presence was that of a stranger […] The schema of man is the monstration of this marvel: self outside of self, the outside standing for self, and the being surprised in face of self. Painting paints this surprise. The surprise is painting.3
This surprising strangeness of painting, this firm and persistent alterity that animates The Muses, re-surfaces in The Ground of the Images as both the figure and process of the distinct. The distinct is a force of separation, demarcating what is set aside, removed, cut off,4 operating as the mark and marker of difference. The project of the distinct is the creation of a sacred distance, a substantive alterity that is opposed to maintaining religious _bonds_—be they with others or oneself, with nature or with the gods. A "scared" distinction begins when art begins "not in religion but set apart."5
The distinct, though, is more than simply drawing a line that demarcates. The distinct operates within a multiple tension—a tension that sets apart, keeps separate, and at the same time is a crossing of this separation. This multiple tension marks what is drawn or set apart as withdrawn. "One cannot touch it […] because the distinct line or trait separates something that is no longer of the order of touch, not exactly untouchable, then, but rather an impalpable. This impalpable is given in the trait and in the line that separates it, it is given by the distinction that removes it."6
Please Note
😵 This is an excerpt of a 1,640 word text. You can purchase the piece for $2 CDN. A link to the full article will be emailed within 1 hour of your payment. Subscribers receive full access to all content—just click the key icon to the right to log in.
Full Text$2.00
About the Author
Cheryl Meszaros is a lecturer and museum consultant specializing in interpretation. She holds a PhD in Education and is the recent recipient of a J. Paul Getty Museum Scholar Grant.
You Might Also Enjoy