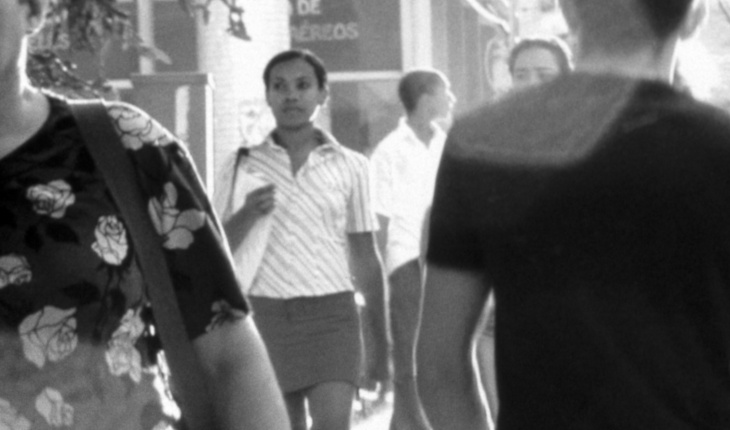 Reiterative Revolution

Lisa Coultard
Vancouver artist Stan Douglas's recent art installation Inconsolable Memories (2006) offers a 16 mm film based on Tomás Gutiérrez Alea's 1968 film Memorias del subdesarrollo ( Memories of Underdevelopment ) and a series of photographs from Havana. Known primarily for his work in video and film, this exhibit extends the thematic and structural doubling that are pervasive in Douglas's work (split or two-sided screens, layered images, character doubling, and ghosting) to a double form for the installation itself: photographs and film loop. Both parts of the exhibit take post-revolutionary Cuba as the focal point (and there is some direct doubling of locales that appear in both), but they approach the issues of memory, history, and identity in markedly distinct ways.
Lushly coloured, the photographs feature bright, uniformly lit, and carefully framed shots of empty architectural, scenic, and interior spaces that emphasize the impact of time on space and the role of sight: we see landscapes through holes in walls, empty theatres with windows of light, architectural spaces with cutaways, empty rooms decorated as if for a museum or frozen in time. Throughout the photographs, our attention is drawn to layers of time: the once elegant home, the graffiti on the walls, the rebirth of the theatre as parking garage, the emptied out panoptic prison. In this architectural and spatial play of past and present usage, as well as in the images' frontal compositions and absence of human action (there is one shot of a marketplace featuring human figures), the photographs exude a kind of touristic gaze, an exaggerated visuality and clarity that seems to offer up these images to the spectator for consumption.
In combination with these photographs, and occupying a focalizing role in the exhibition, the filmic portion of the installation consists of two uneven loops (one is 28:15 minutes, the other 15:57) of 16 mm black-and-white footage that are played simultaneously so that the ordering of segments alters in the projection. This looped film can be seen within the greater context of Douglas's film and video works, especially those described by Douglas as "recombinant." Reworking seminal film texts, Douglas's recombinant Journey into Fear (2001), Suspiria (2003), and Inconsolable Memories (2005) do not merely replay existing film material (as in Douglas's looping of the robbery in Hitchcock's Marnie [1964] for his Subject to a Film: Marnie [1995]), but modify and remake the referent text, adding layers and depths while also subtracting and excising. The works thus effectively engage in a kind of intertextual rewrite, renegotiating the presences and absences in the original work and redistributing what are seen to be its major and minor keys.
This redistribution is not, however, only a formal restructuring but a modification of the thematic, ideological, and political systems inherent in the original referent's form and narration. A complex, intertextual rewriting and resituating of Alea's 1968 film adaptation of Edmund Desnoes' novel, Douglas's Inconsolable Memories alters the film's key events and themes. Alea's film is a landmark in Cuban and world cinemas, adapting art cinema modes of narration for political purposes, depicting the thoughts, memories, and hauntings of the main character, Sergio, and his decision to remain in Cuba after the mass exodus of (mostly wealthy and bourgeois) Cubans after the 1956 revolution. Paralleling gender and national politics of revolution and change, the film offers an exploration of the solipsism, self-absorption, and most importantly, self-loathing, that are the potential obverse of any coherent construction of individual or national identity. Operating as an allegory for national cycles of destructive repetition, Sergio's failed romances in the film are the result of his own seduction by and loathing for bourgeois and Western ways. Most explicit in this metaphoric depiction is Sergio's affair with a young girl of sixteen: disgusted by his wife's exodus and adherence to European and American modes of behaviour and dress, Sergio seduces what he sees as a more innocent, unspoiled, and authentically "Cuban" girl. Yet, it is this same girl that he can't help but "ruin." Attracted to what he sees as her natural and virginal state, he deflowers her, dresses her in the clothes his wife left behind, and tries to educate her in American literature (Hemingway). Yet he is eventually repulsed by her failure to become a "good" copy of his wife. In the end, he rejects her as embodying the qualities of "underdevelopment" to which he unconsciously resigns himself but nonetheless condems.
Please Note
💩 This is an excerpt of a 1,669 word text. You can purchase the piece for $2 CDN. A link to the full article will be emailed within 1 hour of your payment. Subscribers receive full access to all content—just click the key icon to the right to log in.
Full Text$2.00
About the Author
Lisa Coultard is Assistant Professor of Film Studies at the University of British Columbia. She has published articles on Abigail Lane, Kiki Smith, and Jenny Holzer and is currently working on a book project about courtly love and postmodernism in cinema.
You Might Also Enjoy