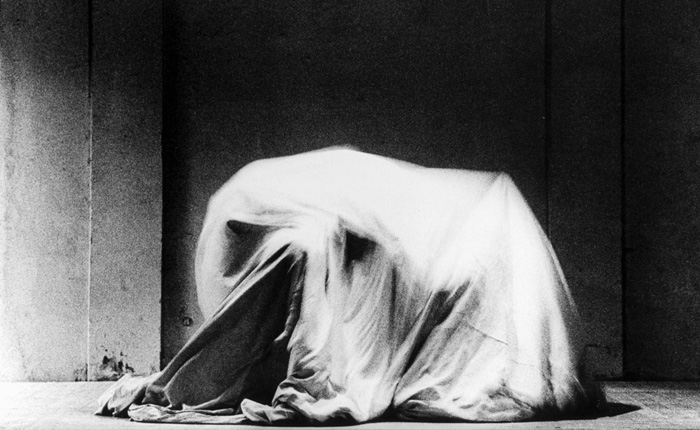 Social Fabric

Pan Wendt
From early 1968 to October 1970, in an atmosphere charged with the tension of social unrest, a group of Italy-based artists taking the name Lo Zoo (The Zoo) arrived on the European performance scene with a practice that in many ways prefigured the recent interest in a "relational" aesthetics. The group produced a series of collaborative performance pieces that participated in the iconoclasm and disciplinary shakeup characterized by happenings, performance, and conceptual art. But Lo Zoo also challenged their claims of immediacy and direct social engagement with a hybrid practice that aimed to produce new publics around diverse and distinctly articulated moments of creation, mediation, and response. Lo Zoo, unlike its founder Michelangelo Pistoletto, who remains an active and important figure in the Italian art world, has mostly drifted into obscurity, but a re-examination of its sparsely documented activity allows us to reframe an often misunderstood and stereotyped period in art history and offers an early example of reflection on the possibilities and limits of collaborative and socially engaged art practice in a context whose essential conditions arguably still define us.
Lo Zoo modelled its presentation on the travelling theatrical troupe, while at the same time making indirect reference to the ubiquitous street demonstrations of late 1960s Italy. In its dress and behaviour, the group looked back to the modern theatre's humble origins, cultivating the aura of an eccentric and impoverished band of wandering busker-troubadours, figuratively penetrating a domesticated world with pictures, stories, and sounds gleaned from the great beyond. Lo Zoo's protagonists recuperated the eternal figure of the Fool, who by desiring nothing, holding no fixed knowledge, and clinging to no place, soaks up wisdom and perspective with respect to the fictions that uphold everyday life, all the while producing new ones out of its detritus.
Proximity to the Italian art scene (with Pistoletto's name—at least initially—the chief guarantor of venues and spectators) meant that Lo Zoo generally worked within a fine art or at least avant-garde theatre frame of reference, with its attendant debates and concerns. Initially, the group's activities seem classifiable under such categories as the Happening, or the Action, or perhaps the new theatre championing Antonin Artaud, espoused by the likes of Jerzy Grotowski (whose "poor theatre" inspired the term Arte Povera) and the Living Theatre then active in Italy. All of these various movements or modes were defined by the urgency of a call to action, in most cases a collective, participatory one. But a closer look at Lo Zoo reveals a notion of collective action mitigated by various degrees of separation and dialogue—between audience and performers, between mediums, between subject and object, and between revelation and concealment.
The story of Lo Zoo starts to take shape with the opening of Michelangelo Pistoletto's Turin studio, in January 1966. The artist, who was about to reach a new height of international acclaim with a giant exhibition of his mirror paintings at the Walker Art Center in Minneapolis, was drastically shifting the nature of his production. Where the mirror paintings had figures (traced from photographic reproductions and coloured with paint) affixed to reflective backgrounds made of polished steel shaped like doors and leaned against gallery walls, the new works no longer stuck to an engagement with painting or even the two-dimensional image in general. Now, with his Minus Objects, Pistoletto changed medium and style seemingly on a daily basis, adding each new work to a growing congregation in an exhibition space within his studio. The mirror paintings had challenged, on a number of levels, the notion of the artwork as the expression of an artist's individual vision, equally placing the viewer in the divided position of producer and constituent of the work; now Pistoletto refused to sequester himself in a studio or guarantee his authorship. His objects, in turn, were ever more open-ended and demanded to be understood relationally and serially, though as a series the Minus Objects were so diverse as to be almost unreadable as a group.1 The tactic of dividing his studio into a living space, working space, and exhibition space further dramatized the gesture of reaching out, which bound Pistoletto's practice together. Characteristically and crucially, Pistoletto brought these three spaces into close, almost direct dialogue, but refused to allow them, finally, to bleed into one another.
From this point onward, Pistoletto increasingly favoured collaboration. But many of the forms, materials, and ideas from the period of the Minus Objects found their way into the live works that followed them, as Pistoletto never abandoned the production of, and use of, sculptural elements in his performance pieces. Even the basic double structure of the mirror paintings runs through all of the late 1960s work, an opposed pairing that could be described as an outward-looking, active, and unformed element in dialogue with a relatively fixed, bounded, and objective "anchor" that centres the piece and generates a formal coherence.2
Please Note
😒 This is an excerpt of a 3,446 word text. You can purchase the piece for $2 CDN. A link to the full article will be emailed within 1 hour of your payment. Subscribers receive full access to all content—just click the key icon to the right to log in.
Full Text$2.00
About the Author
Pan Wendt is a doctoral candidate in the History of Art at Yale University and Adjunct Curator at the Confederation Centre Art Gallery, Charlottetown. His dissertation focusses on collaborative pieces by Lo Zoo, James Lee Byars, and Franz Erhard Walther.
You Might Also Enjoy