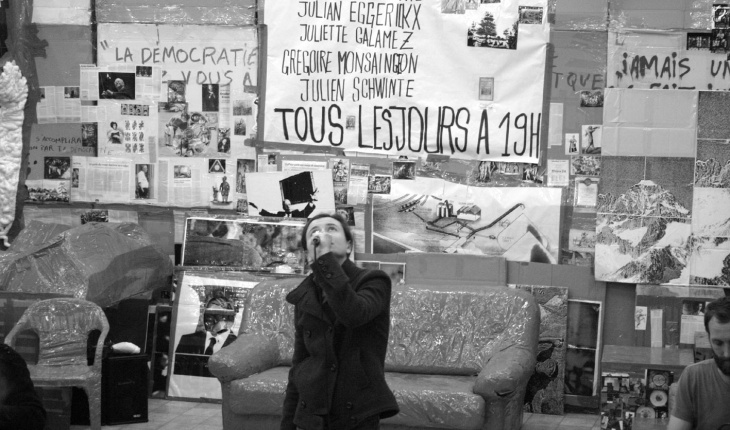 Someone Cares

Antonia Hirsch
In Thomas Hirschhorn's 1992 project Jemand kümmert sich um meine Arbeit (Somebody takes care of my work) he placed some of his sculptural objects on the sidewalk, only to watch how civic sanitation workers 'took care' of them—by removing them along with the trash of other neighbourhood residents.
This direct interaction with social space and public institutions may have foreshadowed the spirit in which Hirschhorn's 2004 Swiss-Swiss Democracy was conceived. As part of this project, Hirschhorn occupied the Centre Culturel Suisse (CCS) in Paris this past Winter, 1 invading spaces that are not usually open to the public and enveloping them in his trademark architecture of packing tape and cardboard.
As in 1992, it quickly became apparent that 'someone cared' about his work. While with the earlier work Hirschhorn merely established interaction with a municipal administration through its garbage-removal services, in 2004 he extended his reach straight to the core of the Swiss government, who demonstrated just how much they cared about his project by exacting harsh retribution against the cultural institution that had supported Hirschhorn's venture.
In classic terrorist fashion, Hirsch-horn's project planted a metaphorical bomb within the CCS and managed to provoke Swiss authorities to show their 'true' face, the face of a system that, according to the artist, flies the flag of direct democracy yet renounces basic democratic principles.
Hirschhorn writes: "Swiss-Swiss Democracy wants to go beyond democracy; this is not a provocation... I want to take siege of the Swiss Cultural Centre... With this presence and this daily production, I want to deidealize democracy and I want to destabilize the good democratic conscience..." 2
Hirschhorn seems to enter into the current discourse on the crisis of democracy by taking aim at those structures which, while ostensibly offering a great deal of opportunities and choices, actually only camouflage an atrophy of agency. This condition permits, for example, the right of participation in plebiscites, but lacks the opportunity to influence decisions regarding what questions must be asked, how, and of whom.
However, instead of targeting the art institution as a stand-in for existing power structures, Swiss-Swiss Democracy renders the institution strangely absent. The CCS was strictly subordinate to the artist's strategy, becoming completely instrumentalized as the conduit for a critique directed beyond the cultural institution.
Hirschhorn's project at CCS, accessed through a small alley in the heart of Paris' trendy Marais district, consisted of a labyrinth of rooms and corridors plastered with photocopies of statistics and newspaper articles in French, German and the occasional English tract, thematizing various aspects of Swiss culture, politics, or economy. Monitors providing additional audiovisual material were positioned throughout the exhibition. The requisite libraries of published texts relating to Switzerland (culture, history, political structure etc.) could be perused while sitting in overstuffed, packing tape-covered chairs, next to one of the numerous packing tape-and-cardboard cutaway models of Swiss railway tunnels.
Please Note
💩 This is an excerpt of a 2,004 word text. You can purchase the piece for $2 CDN. A link to the full article will be emailed within 1 hour of your payment. Subscribers receive full access to all content—just click the key icon to the right to log in.
Full Text$2.00
About the Author
Antonia Hirsch is an artist based in Berlin and Vancouver. She is Associate Editor at Fillip.
You Might Also Enjoy