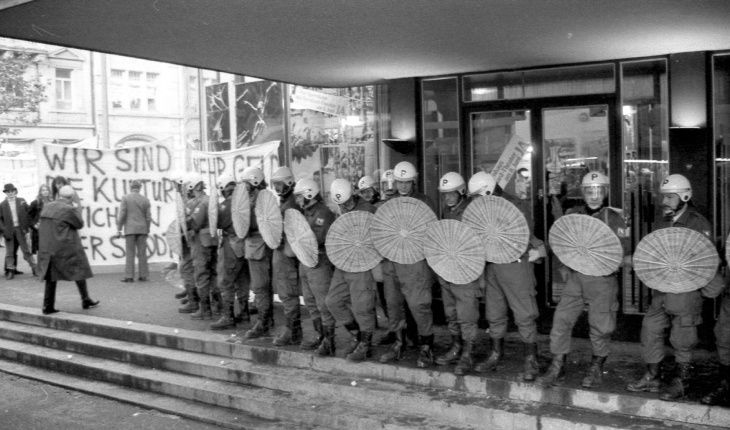 We Want Everything: Assembled Thoughts on Artist-led Culture in Zürich

Barnaby Drabble
ONE
An extract from a video I'm watching shows a familiar scene: ranks of black-clad riot police clutching shields and batons attempting to protect the entrance of a building as young protestors waving banners mill around, chant slogans, and make occasional jousting attempts to break police lines.1 Members of both sides of the dispute get pushed around, beaten up, and trampled, and as darkness falls things escalate, cars burn, and the police pepper the crowd with teargas and rubber bullets. Scenes like these have become the everyday stuff of news reports from around the world, a double-edged leitmotif used to signal on the one hand "youth out of control" and on the other "democracy under threat": a Chinese man and a tank, an Arabic youth in a Paris suburb, a skin-head. Images of civil unrest and disobedience have become generic, and as such they enter the terrain of the visual cliché, and in some cases even the icon. In media terms, this particular film can be seen as a minor document. However, for me, the value of this film lies in its location, its date, and the specific demands of its protagonists.
Shot in black-and-white video in 1980 in Zürich by members of the video collective Videoladen Zürich (Videoshop Zürich), Züri brännt (Zürich is Burning)2 is a poetic, and at times irreverent documentation of how a loose group of young artists, filmmakers, playwrights, poets, radio DJs, musicians, groupies, and hangers on, set about making space for their own cultural visions and expressions; space, or as they referred to it "Freier Raum" that proved hard to come by and once occupied, proved equally hard to hold on to. As it became clear to them that their "culture" was perceived not as the right kind of culture, one thing necessarily lead to another, resulting in a season of violent public protest against what (in relation to its European neighbours) represented an extreme state of cultural conservatism. Few, outside the country know anything about the so-called "youth unrest" that the film documents. The riots shook Zürich in 1980 and kicked off demonstrations in the nearby cities of Basel and Bern that lasted until Zürich begrudgingly agreed to support rather than repress the activities of the younger generation. In general Switzerland seems willing to forget that only twenty-five years ago its citizens were forced to literally fight for artistic freedom. When a librarian at the city's social archive encouraged me to look at Zürich is Burning, I was transfixed by the importance of this overlooked "footnote" to Zürich's current cultural importance.3 The archive, I discovered, was an excellent place to set about understanding the complexities of the city I had just moved to, and to get behind the veneer of subdued respectability, which dominates the international perception of Zürich, and indeed of Switzerland as a whole.
The building the police are so eager to protect in the film is not a branch of McDonald's or the Gap, or even a bank, but Zürich's famous opera house. In 1980 police methodically cleared the few large squats in the city, closed a youth radio station for its "provocative" programming, threatened its organizers with arrest, and brutally dispersed even the meekest of "illegal" gatherings.4 Yet, the city of Zürich granted the opera house the sum of 62 million Swiss francs for the renovation of its premises and for its program. The extravagance of this spending sparked a protest that was organized to accompany the opening of the new opera season. On the evening of May 30th, under the mock-operatic title "dance of the culture-zombies" the youth of Zürich took to the streets. The extreme nature of this clash of cultures that followed can, to my mind, be explained by the fact that it was a long time coming. For young artists and musicians in Zürich, it had become slowly and torturously clear that they were stranded in an orthodox bubble that made no pretences as to its unwillingness to accommodate alternatives to the bourgeois mainstream. As one of the video's narrators explains, they knew they were missing out: 68' became an important term and then it went to sleep, Jimmy Hendrix sprung to life and then died again.5
Please Note
😜 This is an excerpt of a 2,817 word text. You can purchase the piece for $2 CDN. A link to the full article will be emailed within 1 hour of your payment. Subscribers receive full access to all content—just click the key icon to the right to log in.
Full Text$2.00
About the Author
Barnaby Drabble is a curator and writer based in Zürich. He is currently curating the forthcoming Oberschwaben Triennial of Contemporary Art (2007).
You Might Also Enjoy