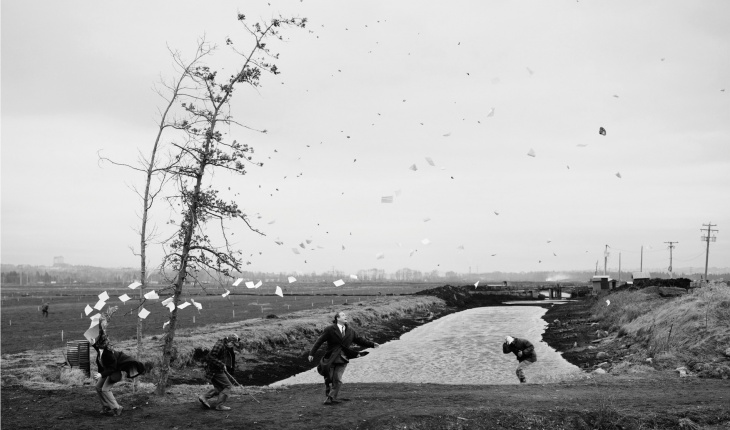 Affirmations and Refusals

Cliff Lauson
The concept of the mid-career retrospective seems somewhat unusual to me. As opposed to the solo exhibition, the retrospective seems to imply a degree of closure. One might think of it as considered rather than urgent, generalizing rather than specific, or appreciative rather than critical. The retrospective is also a concept that seems to hail from an earlier modernist time during which an artist's work was often thought to evolve or progress in phases or periods.
I think this is a difficult challenge for any artist and is particularly relevant to Jeff Wall, who, through both his artwork and writing over the past thirty years, has been concerned with the way in which art is historicized, balanced against the seemingly contradictory experience of, what one might think of as the immediacy in viewing artwork. The status of (art) photography has changed radically since the 1970s and the consistency and success of Wall's production has spawned many imitators who attempt to strike a balance between photography and cinema by presenting tableaux on backlit transparencies. So, on the occasion of his largest two "retrospectives" to date, Wall has collaborated with the curators of the Schaulager and Tate Modern to put forward an exacting selection of works from his oeuvre.
The Schaulager exhibition included the enormous collection of just over seventy works. The large-scale and theoretical phenomenological viewing space of Wall's pictures meant that the exhibition was densely hung. Room after room was packed with works, a minimum of four and sometimes up to six, to the point that the light boxes pushed outside of the formal exhibition space and were installed in the concourse, corridors, and on the outside faces of false walls. It seemed as if museum director Theodora Vischer included as many pictures as possible to illustrate the last twenty-six years of Wall's career. Yet, as concentrated as the experience was, the Herzog & de Meuron designed Schaulager is perhaps only one of a few spaces appropriate enough to house such an ambitious undertaking and contributes, as a venue, to an ongoing mutual interest between the artist and the architects. In fact, Wall's conversations in relation to architecture are some of the more insightful recent writings on his work.1
Mirroring the ambition of this exhibition was the publication of a catalogue raisonné, literally a tome of information. It not only contains full-colour plates of all of Wall's works between 1978 and 2004 and the usual comprehensive technical and historical data, provenance, and bibliographies, but also production shots, sketches, alternate versions, and rare short texts by Wall. Jean-François Chevrier's introductory essay unites a number of ideas formed over the past seventeen years from writings on and conversations with the artist, previously collected in his anthology, Essais et entretiens, 1984–2001.
Please Note
😒 This is an excerpt of a 1,781 word text. You can purchase the piece for $2 CDN. A link to the full article will be emailed within 1 hour of your payment. Subscribers receive full access to all content—just click the key icon to the right to log in.
Full Text$2.00
About the Author
Cliff Lauson is a PhD candidate at University College London and is
writing on Vancouver art and artists. He is also working on specific exhibition projects as Curatorial Assistant at Tate Modern, London, and has recently published in Art Monthly and contributed to Vitamin D: New Perspectives in Drawing.
You Might Also Enjoy