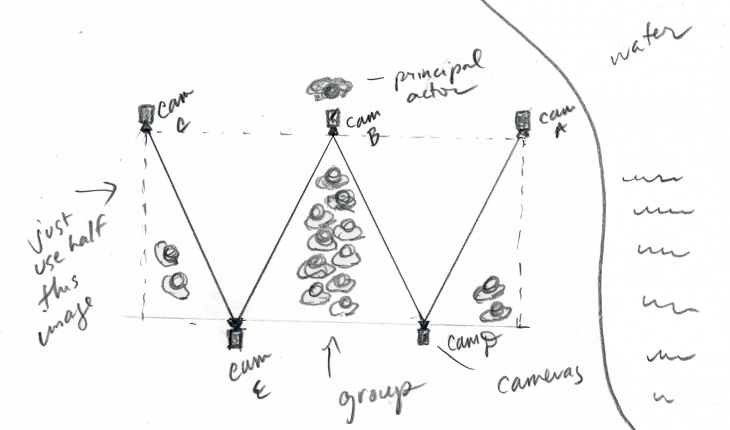 Departures from Death

Monika Szewczyk
It could be said that contemporary art lives off death—the death of painting, the avant-garde, irony, and (doubtlessly soon) relational aesthetics—to name a few of the current preoccupations. Or I should specify that it is the ghosts of paintings' past, the unfinished avant-gardes, and their furtive, regicidal ironies that continue to haunt current art production. Judy Radul's two multiple-projection video works, on view at Presentation House Gallery in North Vancouver, could be seen as paradigmatic in this respect as they deal so clearly with death and the departed. But to stop there, with the fact of Radul's dealing with death and afterlife, could miss the unique aspect of her practice; namely, a notion of experimenting with the world that seems in short supply today.1 This notion of experiment, an open encounter with the world I detect in Radul's practice, is often foreclosed by the all too melancholy death drives of contemporary art (not to mention the lively but lame forms of participation that many relational works politely enforce). Radul's route to experiment is virtually free of the prevailing nostalgia for too hastily consumed artistic vanguards or some coming notions of community, because it primarily interrogates presence. Even when she stages her experiments in the most romantic of settings, her work is not grounded in the fond, disarming recognition that so often links subjectivities. Infused with an undecided quality, the work foregrounds our confrontation with common concepts that remain abstract (such as nature, death, and the base materiality of objects). And by introducing a kind of obscurity, a slightly cryptic quality to the identity of subjects through the processes of rehearsal and audition (as provisional activities that embody a changing mind), what she may be said to advance is an abstraction without the memory of Kazimir Malevich (or at least without the mere/misguided worship of his monochrome as an icon).
If abstraction was once deployed by the suprematists and constructivists to pave the way for change in their world, these particular geometries may no longer hold the revolutionary sway, having long ago become part of the nostalgic canon. But what if the abstractions of yesteryears are (in sly samizdat style) masked in representation? Although I suspect that Radul's work is not bound for social revolution—true experiments being by definition without bounds—her art continues to foreground the bare geometries that in turn animate, expose and open up already improvisational behaviour.
In her latest work, Downes Point (2005), the viewer is implicated in a precise geometry of viewing. Three projectors on the one side and two on the other cast two corresponding panoramic views onto two facing walls. On one of these panoramic images, a motley company of characters assembles in a sublime arbutus grove on Hornby Island, situated within a two-hour, three-ferry drive and ferry trip from Vancouver. This group of individuals wait, listen, and then respond to the existential musing and elemental instructions of a man with the gait of a stage director (played by the only professional actor on the set). He is seen on the opposite wall amid more arbutus trees, recorded by another two cameras that were pointed in the opposite direction. The forest space is thereby almost entirely "covered," as they would say in cinema or the newsroom. Five cameras produce two composite panoramic views recast on two facing walls by five similarly distributed projectors inside the gallery (see diagram). By entering the space where Downes Point is projected, viewers inhabit a rectilinear field completed by two benches placed perpendicular to the two parallel screens. We're back to the square then, although the scene is not recognizably constructivist. The gnarly trees and the fifteen figures assembled among them have a downright Shakespearian quality that contradicts the ultra-modernity of the equipment (and the modern suit of the director), without irritating the eye.
Please Note
😩 This is an excerpt of a 2,128 word text. You can purchase the piece for $2 CDN. A link to the full article will be emailed within 1 hour of your payment. Subscribers receive full access to all content—just click the key icon to the right to log in.
Full Text$2.00
About the Author
Monika Szewczyk divides her time between writing, curating, editing, and teaching. She has contributed essays to numerous catalogues as well as journals such as Afterall, A Prior, C Magazine, Camera Austria, Canadian Art, F.R. DAVID, Mousse, and e-flux journal, which has published instalments of her ongoing project, Art of Conversation. Between 2008 and 2012, she was head of publications at Witte de With Center for Contemporary Art and a tutor at the Piet Zwart Institute, both in Rotterdam. Previously, Szewczyk was Assistant Curator at the Vancouver Art Gallery and an instructor at Emily Carr University of Art + Design (Vancouver). As of July 2012 she holds the position of Visual Arts Program Curator at the Reva and David Logan Center for the Arts, University of Chicago.
You Might Also Enjoy