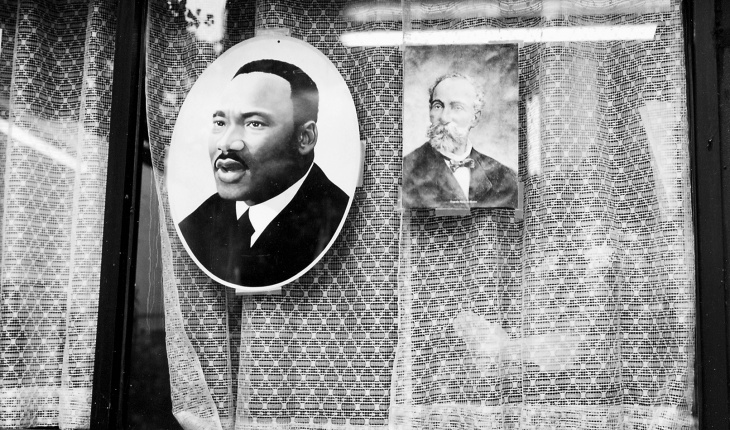 Partial Recall

Alex Kitnick
Everything we can quantify physically is analogue: length, width, voltage and pressure. Telephones are analogue; the hands of watches that turn with the earth are analogue; writing is analogue; drawing is analogue. Even crossing out is analogue. –Tacita Dean
Mottled, faded, scuffed, and torn—the photographs gathered in Zoe Leonard's Analogue feature storefronts, shop windows, and displays of wares with little gloss or shine. Selected from a trove of images made over the last ten years, the book both documents a length of time and forms a kind of travelogue. The first half of the book is of New York—of the Lower East Side and segments of Brooklyn: there is the Dynamite store on Delancey Street and Graham Electronics on Manhattan Avenue, both with their signs torn off and gates pulled down. (New York eventually gives way to other parts of the world: Uganda, Poland, Cuba, and Mexico all appear here.) A number of storefronts are unidentified; we see only their windows full of fabric samples, back-to-school specials, and arrangements of shirts. Scale and subject matter remain more or less constant throughout the book—each photograph captures no more than a few square feet of space. Such consistency has a cumulative effect: taken together the photographs suggest a world simultaneously distant and familiar. The antiquated buildings and structures pictured seem aware of their precarious condition. (Indeed, I have already seen a number of the ones pictured in my neighbourhood disappear.) Perhaps it is this sense of an oncoming past that makes these photographs so hard to periodize and place. They don't appear to belong to now or then, here or there. They form a strange time capsule, out of date at the moment of its inception.
A strong dialectic between the artifactual intimacy of the photographs and the sweeping project of which they are a part moves throughout the book. Each photograph appears at once as an emblem of global change and as an irreducibly material piece of evidence. Analogue is a kind of allegory of globalization, but it is also a transcription of its affective repercussions: it is the end result of an attempt to record an increasingly inhuman world according to the criteria of scale and sentiment. It looks everywhere for like feelings: the world is presented here less as a series of distinct nation-states with self-contained identities than as a string of interconnected sites joined together by a common form and flow of goods. (The shipment of second-hand clothing from Brooklyn to Kampala is one of the work's unifying threads and the most literal example of interconnection.) It is striking how much a painted window in New York looks like one in Uganda, how the photographs line up in such a consistent fashion. Certainly this could be said of corporate office buildings as well, but few appear here. Leonard's hand is most apparent in the scale of the subjects she opted to picture. Free of the glass towers and industrial infrastructure endemic to globalization, the world presented in Analogue is thick with its smaller remnants: signs for Coca-Cola and Kodak abound, brightly colored plastics and cotton shirts are everywhere available. In its gathering of ephemera and small-scale establishments, Analogue constructs what Gilles Deleuze and Félix Guattari might call a "minor" world: a reworked and reconfigured world, carved out of, and seemingly resistant to, its major variant.
Please Note
😩 This is an excerpt of a 1,652 word text. You can purchase the piece for $2 CDN. A link to the full article will be emailed within 1 hour of your payment. Subscribers receive full access to all content—just click the key icon to the right to log in.
Full Text$2.00
About the Author
Alex Kitnick has participated in the Whitney Independent Study Program, and is currently a Ph.D. candidate in the department of art and archaeology at Princeton University.
You Might Also Enjoy