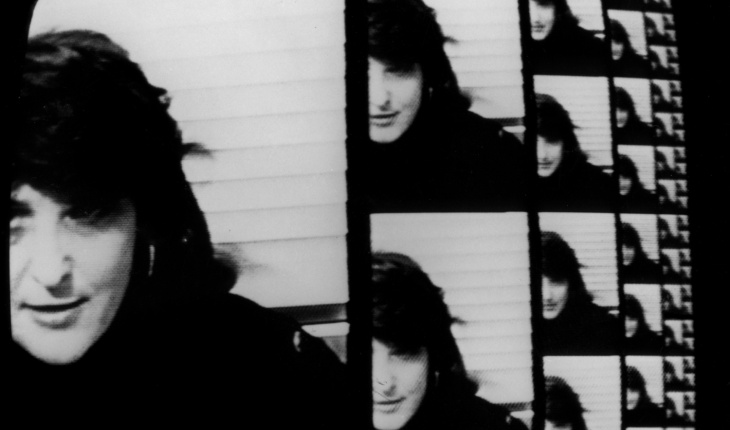 Through a Mirror, Darkly

Randy Lee Cutler
A pioneer in the exploration of digital media, Lynn Hershman Leeson has produced artworks that disturb the psyche even as they delight the imagination. For more than thirty years, her art practice reveals how the constructions and reconstructions of self correspond with the novelties and upheavals of technological invention. Crossing a range of media and concerning the fabrication of gendered identities, Hershman Leeson has focused her energies on the complicated relations of spectatorship, estrangement, and interactivity.
Hershmanlandia: The Art and Films of Lynn Herschman Leeson, which fills six large rooms at the Henry Art Gallery, was a term first used by critic Pierre Restany to describe the Hershman Leeson's "strategy of perpetual and infinite personality situations and fragmentation."1 Curator Robin Held took on this appellation as a means of framing the major components of the artist's practice. Currently recognized for her technological innovations, including interactive screens and a cinematic process for virtual film sets, the work in this exhibition highlights themes and issues as much as formal and material practices. Her contribution to visual art, gender politics. and digital media is stellar, particularly when so few people seem to know of her work. Held has provided information panels that address the minutiae as well as the artistic impact of Hershman Leeson's long career. The diaristic elements have influenced the likes of filmmakers Chantal Akerman and Sadie Benning; the technological innovations can be seen in the works of Nell Tenhaaf and Reva Stone (recently exhibited at the Surrey Art Gallery); and the creation of alternate personas are evident in the photographs of Cindy Sherman and Janeita Eyre. Hershmanlandia showcases the artist's impressive creativity and experimentation as well as providing context for the viewer. And yet, the exhibition manifested some of the typical problems involved with showing media-based practices. A few of the pieces were not operating properly during my visit and I found myself seduced and abandoned by several dormant interfaces. Not surprisingly, the more traditional analogue works, documents of performances, and photographs, were a lively antidote to these sometimes static encounters within the exhibition.
Working with a post-medium approach, Hershman Leeson has directed her prolific energies to a range of materials, including drawings, paintings, photographs, performances, robotics, digital art, videos, films, interactive multimedia installations, and artificial intelligence works. Her ever-present consideration of identity and its inherent instabilities demonstrates a unique investigation of multiple personas, personality disorders, and mythical character constructions. One of her first works, a conceptual based performance called Roberta Breitmore (1974–78), represents a template of sorts for her artistic career. Hershmanlandia begins by presenting Hershman Leeson's first fictional persona, which comprises "Roberta Breitmore"'s official documents including credit cards, checking account, driver's license, and correspondence with her psychologist. The exhibit also gives us artifacts like the ash-blond wig Hershman Leeson wore as "Roberta," the natty albeit worn red suede jacket, and the ambiguous classified ad that was placed in a Bay area newspaper seeking a roommate. The forty-three people who answered the ad became unknowing participants in the work. The images from this project, surreptitiously photographed while "Roberta" met these respondents, are reminiscent of a film from the same period, Looking for Mr Goodbar (1977), a cautionary tale about the dangers of living a double life. Like that film, Roberta Breitmore addresses issues of sexual exploration, personal responsibility, and multiple personas. Hershman Leeson took these themes further when she multiplied herself into three "Roberta" performers who operated in different cities. From the early performance work of Roberta Breitmore to the more recent Teknolust (2002)—shot originally in high-definition video and later converted to 35mm film—that deals with cyber identity and the future of hybrid replicants, one can see the refracted evolution from pseudonyms and aliases to cloning and simulation. Her work, evolving alongside technological innovations and shifting art practices, has mutated into a fragmented and dispersed narrative of human subjectivity and interaction. Each successive work is linked to the previous one, somehow learning from its experiences in order to spawn newer versions of itself, evidence perhaps of a schizo-genetic intelligence.
Please Note
😒 This is an excerpt of a 1,576 word text. You can purchase the piece for $2 CDN. A link to the full article will be emailed within 1 hour of your payment. Subscribers receive full access to all content—just click the key icon to the right to log in.
Full Text$2.00
About the Author
Randy Lee Cutler is an educator, writer, artist, and performer. Her research investigates relationships between mediated culture, critical theory, and embodied knowledge. She is Associate Professor and Head of Critical + Cultural Studies at Emily Carr Institute, where she teaches cultural studies, art history, and media theory.
You Might Also Enjoy