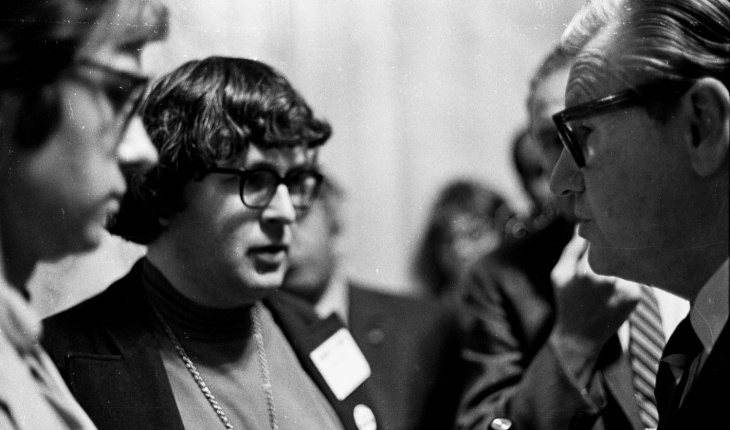 That Thinking Feeling

Juan A. Gaitán
Early in June, less than three weeks prior to the opening of the United States Pavilion at the Venice Biennale, major American artists joined in a powerful action of reproach toward their country's war escalation in Indochina and the killing of college students by police and National Guard. They supported the manifesto of the Emergency Cultural Government committee of the New York Artists' strike, calling for immediate boycott of US Government-sponsored art shows abroad until "policies of ruthless aggression abroad and intolerable repression at home" are stopped by the present administration.1 –Beth Coffelt
Think with the Senses—Feel with the Mind is predicated on the conviction that art is now, as it has always been, the means by which humans are made aware of the whole of their being. However, it does not assume that an enduring wholeness is the result, or that art is a magical solution for the conflicts in our nature or in and among differing cultures and societies. That is the domain of philosophy, the social sciences, and politics.2 –Robert Storr
It is rumoured that Félix González-Torres was the only artist "willing" to represent the US in this year's Venice Biennale. We can't know how willing. Yet Nancy Spector, curator of this year's US Pavilion, claimed to speak on González-Torres' behalf: "I feel pretty confident that he would have felt this was the right time and the right place."3 Now his work is there, amongst the living artists that represent the other nations. Amongst other possible hypotheses, his inclusion can be taken as a clever way of averting such embarrassing incidents as the New York Artists Strike Against Racism, Sexism, Repression and War (N.Y.A.S.A.R.S.R.W.), in 1970, during which a large group of American artists created a public outcry, attempting to boycott an exhibition in which their work was included (apparently without their consent). Their motion to withdraw was duly interpolated by the bureaucracy, but at the doors of the Museum of Modern Art they managed to produce a workshop conference on racism, sexism, repression, and war. The group was even treated to a speech by Governor Nelson Rockefeller, who memorably asked, "What is Sexism? And what does it have to do with art?"— to which a voice from the audience replied, "Ask Mrs. Rockefeller!"4 This episode, today mostly forgotten, hinged on two themes: the escalating war in Indochina and growing oppression within the US, especially in relation to youth movements. Noam Chomsky, the would-be prime advocate of a politics of transparency, became central in US antiestablishment discourse at this time, overshadowing others like Herbert Marcuse, perhaps because, taking one or two steps down from the academic platform, he began to speak "the language of the people"—as he continues to do today—but also because he accepted wholeheartedly the role of the American "public intellectual." Much-needed, this figure was a sort of civic logician—at the time played either by government officials or by the mystical leader. We can at least mourn the fact that no one today can replace Chomsky, either because they are not willing or because public appearances are now governed and actively forestalled in direct and subtle ways.
Please Note
😒 This is an excerpt of a 1,798 word text. You can purchase the piece for $2 CDN. A link to the full article will be emailed within 1 hour of your payment. Subscribers receive full access to all content—just click the key icon to the right to log in.
Full Text$2.00
About the Author
Juan A. Gaitán is a curator and writer. Recent exhibitions include I, YAMA (Istanbul); The End of Money, Witte de With Center for Contemporary Art (Rotterdam); Models for Taking Part, Presentation House Gallery (Vancouver) and Justina M. Barnicke Gallery (Toronto); and K, CCA Wattis Institute for Contemporary Arts (San Francisco). His writing has been published in Afterall, The Exhibitionist, and Mousse, among others. Gaitán currently lives in Mexico City.
You Might Also Enjoy